LONDON — Arsene Wenger's hoodoo against Jose Mourinho continued on Sunday, as it's now 13 attempts against Mourinho's Chelsea without a win for the Arsenal boss.
Wenger's side huffed and puffed late on in the 0-0 draw at the Emirates Stadium but were reduced to just one shot on target by another defensive masterclass by Mourinho's side, as the Gunners left it too late to launch an onslaught and send out a message to Chelsea that they will hope to challenge them for the Premier League title next season.
[ RELATED: Three things we learned ]
Towards the end of the game Chelsea's persistent stifling of Arsenal's attackers riled the home supporters and the Gunners faithful sang out in unison: "Boring, boring Chelsea."
When asked about that in his post-game press conference, Mourinho had the following response.
"I think boring is 10 years without a title. That is very, very boring," Mourinho said. "You support the club, you are waiting, waiting for so many years without the Premier League. I think that is very boring. Maybe they were not singing to us, because when you are at home and you want to win the game and you take out your number nine. Maybe for the home fans they want more. They want to play Giroud and Welbeck together up front to try and win the game in the last period. I think we have a very good performance and the "boring team" is the team with the second [highest] amount of goals in the Premier League and is the best team in goal difference."
When asked about not winning, once again, against Mourinho, Wenger shrugged off his personal battle with Chelsea's manager as he has now lost seven and drawn six of his matches when managing against his Portuguese counterpart.
"Look, it is about our club and our team. It is not about me," Wenger said. "We wanted to win the game for the club. The rest is good for media talk but is less important [to me]. What is important is what happens on the football pitch."
What happened on the football pitch on Sunday was that Chelsea put in another solid defensive display and looked lively in the first half by playing Oscar in a "false nine" position and having Eden Hazard, Ramires and Willian making runs underneath him.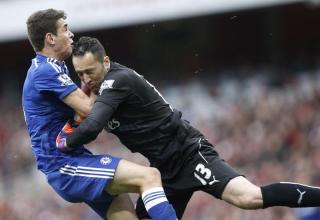 Three potential penalties which were waved away in the first half by referee Michael Oliver were the main talking points. Mourinho didn't want to talk about them but confirmed that Oscar, who was clattered into by Arsenal's goalkeeper David Ospina as a clear penalty kick was waved away, left the Emirates at half time and went to hospital after suffering a suspected concussion.
Mourinho set up his team to get in behind Arsenal in the first half — a formation and system nobody else was expecting before the match — which worked perfectly until Oscar's injury and subsequent replacement at half time.
So, why did Chelsea start without a recognized striker?
"[Didier] Drogba didn't work with us until yesterday. We were developing the game plan on the pitch the entire week without Drogba and we knew that with Oscar we would get behind them like we did so many times in the first half. Like, if you remember the three penalty appeals and Ramires' situation in the face of the 'keeper. In 45 minutes to be behind their defensive line four times, I think it was difficult for Mertesacker and Koscielny."
Pragmatic and appreciative of his sides defensive display, Mourinho knows his side need five more points to secure the PL title and have gone about their business with ruthless, if not somewhat tedious, efficiency in the past two games after securing shutouts against Manchester United and Arsenal.
"We got what we got. I leave it to you to analyze but we performed very, very, very well," Mourinho said. "Against a team in second place with nothing to lose and everything to win. The game was under our control."
Wenger agreed that Chelsea defended well and that his side failed to create clear cut chances going forward, due to the way Mourinho set his side up.
"We performed well but we lacked something in the final third today," Wenger said. That was maybe down to the quality of Chelsea's defending as well, their experience at the back. Maybe we lacked a little bit of freedom in our expression to be really efficient. It is the first time we don't score at home in 35 games so we are not used to that. That is why we are a bit frustrated."
Mourinho was also extremely complimentary of John Terry's performance at the heart of Chelsea's defense, as the 34-year-old celebrated his inclusion in the PFA Team of the Season earlier on Sunday by putting in a towering display.
"I told John Terry in the dressing room that he made fantastic performances with me but this was his best," Mourinho revealed. "It was the best JT has ever played. It was absolutely amazing."
Terry himself perhaps summed up the afternoon perfectly as his side nullified the threat of Arsenal and proved that Mourinho, once again, has the upper hand over Wenger.
"It is a big step to where we want to go. Its not done mathematically but it's a big step. Listen, Arsenal are a very good side and they have world-class players but we nullified them."