LONDON — On Sunday at the Emirates Stadium Chelsea predictably ground out a 0-0 draw at Arsenal to inch closer towards clinching the Premier League title.
[ VIDEO: Oscar taken to hospital ]
In a game which had no goals and numerous talking points — most of them penalty decisions not awarded by the referee — we learned plenty about how resolute Chelsea is and how far the Gunners are from overtaking their London rivals as they aim to make a title surge next season.
[ RELATED: Mourinho wins tactical battle ]
Here are three things we learned from a rambunctious London derby.
ITS HARD TO GET A PK FROM MICHAEL OLIVER
In the first half three, if not four, penalty shouts were waved away by referee Michael Oliver. The first one in the seventh minute, Oscar seemed to embellish the contact with Hector Bellerin slightly as he fell to the ground. The second incident, which resulted in Oscar leaving the Emirates at half time and heading to hospital amid suspected concussion, was the most blatant penalty kick you will see in a long time. Cesc Fabregs (roundly booed on his return to Arsenal by the home fans) dinked in a lovely ball over the top which set Oscar free and as he lobbed the ball over David Ospina, the Colombian goalkeeper cleaned him out in a clattering collision. Bellerin got back to clear the ball off the line, but Oscar was visibly shaken. A third penalty appeal for Chelsea was waved away in the 23rd minute and Fabregas, much to the amusement of the home fans, was booked for simulation. There was definitely contact between Fabregas and Santi Cazorla right on the edge of the box and Fabregas could feel hard done by.
Just as Mourinho was growing more and more incensed on the touchline, Arsenal's fans were then up in arms as Cazorla's shot appeared to strike Cahill on the arm as he threw himself in to block the effort. Did Cahill intentionally raise his arm? No. But he did dive in and when you don't have control of your body, you don't have control of the situation. Look, referees have a tough job in the PL but Oliver got at least three key decisions wrong on Sunday as at least one penalty kick should've been awarded for the horrific of challenge on Oscar.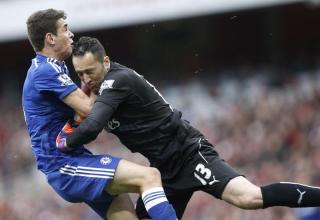 LACK OF PACE IN FINAL THIRD THWARTS GUNNERS
Sure, Chelsea is a very good defensive side but Arsenal's Mesut Ozil, Olivier Giroud and Aaron Ramsey made it easy for Mourinho's team with their slow rate of play as everything was far too congested in central areas. The pace of Danny Welbeck and Theo Walcott would have helped and Wenger didn't introduce those players until the final 15 minutes when Arsenal finally got the ball out wide and got in behind the blue wall which had parked itself on their edge of their own penalty box. By then, it was way too late as the Gunners played into Chelsea's hands and were reduced to just one shot on target in the entire match. Three of Chelsea's back four were voted in the PFA's Premier Legaue Team of the Season on Sunday and John Terry, Gary Cahill and Branislav Ivanovic proved exactly why they are some of the best in European and World soccer.
[ RELATED: Who was snubbed for team of the season? ]
Terry was sublime. His reading of the game totally nullified the threat of Giroud and he won every ball which was clipped into Arsenal's French forward. Chants of "Boring, Boring Chelsea!" rang out from the home fans towards the end of the game, but that will have been music to the ears of Mourinho and his players as they secured another point and put on another defensive masterclass to inch closer to winning the Premier League title.
"FALSE NINE" A REAL OPTION FOR CHELSEA
The "false nine" experiment only lasted for 45 minutes for Chelsea on Sunday (due to Oscar's early removal due to a concussion) and although it isn't ideal, the formation remains a real option for the Blues. With Diego Costa still nursing his hamstring injury, Loic Remy out and Didier Drogba only fit enough for the bench, Mourinho decided to start with Oscar up front and a fluid three of Ramires on the right, Willian in the middle and Eden Hazard on the left underneath him. Their movement, coupled with third-man running from Fabregas or Ramires, worked well and with Chelsea eager to spring counter attacks as Arsenal ran out of ideas in attack, this experiment proved it can be carried out again if Costa or Remy are both missing for a few games next season. Some would argue that Chelsea need to buy another forward this summer but away from home the "false nine" formation works perfectly and helped Chelsea get the draw they needed but also kept an attacking threat.