CHELSEA: BORING OR BRILLIANT?
Towards the end of Chelsea's 0-0 draw at Arsenal on Sunday the home fans at the Emirates Stadium were growing increasingly frustrated with the away side thwarting attack after attack. "Boring, boring Chelsea" was the chant that reverberated around the stadium as Jose Mourinho had masterminded another sublime defensive display to inch his side one point closer to the Premier League title and quelling the threat of his nearest challenger.
[ RELATED: Three things we learned | Mourinho wins tactical battle ]
Asked afterwards what he thought about the chants from Arsenal's fans and being labelled boring, Mourinho delivered the best response possible to silence the Gunners faithful.
"I think boring is 10 years without a title. That is very, very boring," Mourinho said. "You support the club, you are waiting, waiting for so many years without the Premier League. I think that is very boring. Maybe they were not singing to us, because when you are at home and you want to win the game and you take out your number nine. Maybe for the home fans they want more. They want to play Giroud and Welbeck together up front to try and win the game in the last period. I think we have a very good performance and the 'boring team' is the team with the second [highest] amount of goals in the Premier League and is the best team in goal difference."
How do you come back from that burn from Mourinho? You don't.
Chelsea is now 10 points clear at the top of the PL table and if they beat Leicester City on Wednesday that lead will be increased to 13 points with four games to go. Only Arsenal can catch them if they win all of their remaining five matches and Chelsea do not pick up any more points this season. So, that is why Mourinho selected to defend first and try and make other teams beat Chelsea, rather than his side beating itself.
Due to injuries ruling out Diego Costa and Loic Remy, plus Didier Drogba only fit to start on the bench, Mourinho showed his tactical genius as he played Oscar in a "false nine" position in the first half which worked wonderfully well as Willian, Ramires and Eden Hazard supported from deep-lying roles. Oscar had to be withdrawn at half time due to the terrible challenge from Arsenal's goalkeeper David Ospina, which should have resulted in a penalty kick, that left him needing a trip to hospital. But the fact that Chelsea got in behind Arsenal on at least four occasions in the first 45 minutes proved that playing a "false nine" in the future should not be out of the question.
As for their defensive prowess, they way they funneled Arsenal's attackers into central areas was majestic. John Terry's performance had Mourinho saying it was the "best he's ever played" for him at Chelsea as the Blues' captain celebrated his inclusion into the PFA Team of the Year in fine style. Terry, 34, and Chelsea handled Olivier Giroud masterfully with the English center back winning aerial balls, organizing the back line and urging his side to stay compact. Arsenal missed the pace and width players like Theo Walcott and Danny Welbeck provide and only when Wenger brought them on late in the game did the Gunners get in behind and around Chelsea's blue wall. As the stat above suggests, Chelsea didn't do anything new against Arsenal as their defensive dominance against their London rivals continues. Arsenal only had one shot on target and failed to score at home in the PL for the first time this season and for the first time since Feb. 12, 2014.
Premier League Schedule – Week 34

They have now shut the Gunners out in each of the four games Mourinho has played against them since he returned to the PL at the start of last season, which includes two 0-0 draws away from home, and the Portuguese coach is now 13 games unbeaten (seven wins, six draws) against Wenger. Just as free-flowing, attractive, attacking soccer is widely admired, there's also a supreme art in defending correctly and resolutely. The hours Mourinho spent on the training ground in the lead up to the game against Arsenal made all the difference, as he knew that as long as his side didn't lose then there would be no real risk of them fluffing their lines and not winning the PL crown this season.
His masterplan to grind out wins and points in the final stages of the season is nothing new either. Mourinho is the only manager in history to have won league titles in Portugal, England, Italy and Spain. He knows how to get it done at the pivotal stage of the season. How many times have we seen his teams lighting it up early in the season with scintillating displays and the shackles off, then grinding out wins at the business end of the season? In short, the answer is a heck of a lot. And also, this notion of being boring… Chelsea is still the second highest goalscorers in the PL. Not bad for a boring team.
[ RELATED: Watch full match replays ]
Yes in an ideal world it would be great to see a team rip up opponents playing expansive, orgasmic soccer like the great Barcelona, Real Madrid and Manchester United sides of the past, but it is not easy to do what Chelsea does. Mourinho needs each and every one of his players to buy into his philosophy of switching tactics in the latter stages of the season. In Terry he had a leader on the pitch who understands what is needed to win the PL crown and Chelsea's skipper is getting ready to lift his fourth title and third under Mourinho. Here's what Terry thinks about those "boring" jibes from Arsenal's fans.
"We are definitely not boring and if we do go on to win it, nobody's going to remember the performances when perhaps it's not been that exciting," Terry said. "We've dug deep and other teams haven't, and that is why they are so far behind us. Possession is great. We could see that from the Manchester United game last week. Possession and tippy-tappy football's great, but if you are not winning games you're not going to win the league."
HAZARD, KANE SCOOP DESERVED PFA AWARDS
On Sunday evening the Professional Footballers Association (PFA) announced the winners of their season awards as Eden Hazard was voted as the best player in the PL by his peers for the 2014-15 season and Harry Kane picked up the young player of the season award. It's hard to argue with either selection.
[ VIDEO: Premier League highlights ]
Hazard, 24, also finished second behind Kane in the young player of the season vote to display his dominance. The Belgian winger has scored 13 goals and assisted eight but don't let those rather modest numbers deceive you. Go around the PL and ask other players who is the toughest to mark. Hazard's name is always at the top of the list. He has created 88 chances, more than any other player, and has also completed the most dribbles in the PL (155) on his way to being the most fouled player. The speedy, combative Belgian was a worthy winner of the PFA's top prize as he is so often the creative spark for Chelsea as they inch towards the title. As for Kane, well, what superlative hasn't been used to describe his breakout season? Just 21, he has scored 30 goals in all competitions for Spurs and didn't even start his first PL match of the season until November. Remarkable. He can score with both feet, makes intelligent runs, can hold the ball up well and is great in the air.
The one gripe I had with the PFA awards was the Team of the Season selections. Here's a list of 10 players who should have made the squad.
While here is the actual 11 players who were voted by their fellow PL players as the best this season.
RELEGATION PICTURE
Man, it is getting tight down there. Leicester City grabbed a huge win away at Burnley as the Clarets' season may well be defined by two second half minutes when all is said and done. First, Matt  Taylor stepped up and slammed a penalty kick against the post. Then, a defensive mix up between Tom Heaton and Michael Duff allowed Jamie Vardy to prod the ball home and give the Foxes the 1-0 win, which is their fourth-straight victory and moves them out of the bottom three.
[ RELATED: Latest PL standings | schedule | stats ]
Elsewhere Hull bagged a huge win at Palace thanks to two goal from Dame N'Doye but the Tigers have a horrendous set of games coming up  against Liverpool, Arsenal, Tottenham and Manchester United as they sit just one point ahead of Sunderland who slipped into the bottom three despite their draw at Stoke. As for QPR, they squandered a glorious chance to grab three points at home as Charlie Austin had his poor penalty kick saved by Adrian and the R's drew 0-0 with West Ham to leave themselves four points from safety with four games to go. Another club looking helpless is Newcastle United as seven-straight defeats has seen them fall to just five points above the drop zone. Surely the Magpies won't go down?
Here's a look at how the bottom seven is shaping up in the standings. It's anybody's guess as to who will go down, but Burnley and QPR are looking increasingly likely to drop straight back into the Championship. Can they replicate Leicester's heroics of recent weeks to make one final push?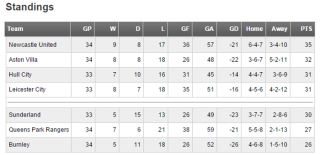 ROCKET MEN! WATFORD COMING UP
Sir Elton John, Honorary Life President of Watford FC, will be a happy man after the Hornets sealed promotion to the Premier League over the weekend.
[ RELATED: 10 things you should know about Watford ]
On Saturday Watford beat Brighton and Hove Albion 2-0 in their penultimate Championship match of the season and with other teams slipping up, that meant the Hertfordshire club is heading back to the big time.
It all came as quite a surprise as everyone expected the race for promotion to go down to the final day of the season but a freak set of results sealed the deal for Watford. As you can see in the video above taken on the team bus (listened to the one guy "I don't normally get emotional…") by Mexican international defender Miguel Layun, the moment promotion was sealed was pretty special.
As for who can join them, if Bournemouth wins against Bolton on Monday afternoon the Cherries will all but seal their place in the PL for the first-time in club history. If they win they no other team could surpass their points total but a massive swing in goal differential is the only thing that could. Here's a breakdown of the entire playoff and promotion picture entering the final week of the Championship season.
USMNT UPDATE: GUZAN'S BLUNDER, HOWARD ROLLING
There's no hiding when a goalkeeper makes a bad mistake and U.S. national team man Brad Guzan had one of those moments on Saturday just three minutes in. As the ball was played back to Guzan by Ron Vlaar, the American tried to swing his left foot at the clearance but got it horribly wrong as the ball bounced off his standing foot and skewed straight to Sergio Aguero to tap home. Awful moment for Guzan who has been so reliable for Villa. Guzan's side ended up losing the game 3-2 late on (after an impressive rally from 2-0 down went to waste) and remain in serious danger and just two points above the bottom three.
[ RELATED: Geoff Cameron's blog for PST ]
Elsewhere, Geoff Cameron started at right back for Stoke in their 1-1 draw with Sunderland but limped off late on with a hamstring issue. Rounding off the Americans in action in the PL, Tim Howard kept another clean sheet as Everton defeated his old side Manchester United 3-0 in the Toffees' biggest win of the season so far.
Premier League Playback comes out every Monday as PST's Lead Writer and Editor takes an alternative look at all the action from the weekend. Read the full archive, here.