Southampton may be enjoying their best-ever season in the Premier League but the south coast club insists this is only the start.
Executive director Les Reed has targeted "Champions League football in the next five years" for the Saints, as the ambitious outfit continue to make waves in England's top-flight.
[ VIDEO: Chelsea's outrageous trick shot ]
Saints' initial five-year plan ran out last summer and it was made in 2009 when the club was in League One and had just exited administration after being saved from going out of business by Markus Liebherr and his family.
They achieved the goal of that initial plan, reaching the PL, within three years and have since established themselves in the top-flight with an eighth place finish in the standings last season. Now, they need a new target after coming out of a period of transition in tip-top condition.
Southampton are currently fighting it out with Tottenham Hotspur and Liverpool to finish in fifth place this season, but Reed (speaking at a charity event for Kick It Out) believes the team can go on to achieve even more.
"We'd like to think we have the structure to reach the Champions League in the next five years," Reed said. "But it's important to be established as a top-six club over that period. We seem to set some kind of record every year now. It's been a fantastic season. For us, we have proven we were not a flash in the pan in terms of the Premier League, we were eighth last year and we still think we can get a top-six finish…

"I would be disappointed if we didn't make Europe this season, but we have set our own standards now and we are confident over the course of the coming years we will play in Europe and we are confident we are right to have an aspiration to play in the Champions League."
So, is this five-year plan too ambitious or can Saints actually achieve their goal?
For most of this season they have flirted with the top four when many believed they would be relegation fodder following the departures of Rickie Lambert, Adam Lallana, Dejan Lovren. Calum Chambers, Luke Shaw and former manager Mauricio Pochettino this summer.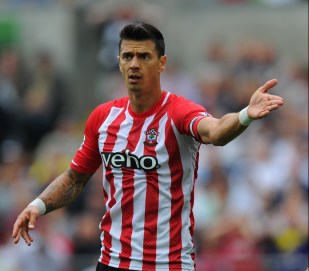 Instead, new manager Ronald Koeman has led the side to its highest-ever points tally in the PL and they are on the brink of appearing in the Europa League next season. If Saints' wealthy owners, the Liebherr family, continue to pump money into the club then their goal of reaching the top four will edge closer. However overpowering at least two of the perennial giants of English soccer such as Chelsea, Manchester City, Manchester United, Arsenal, Liverpool and Tottenham to finish in the top four will not be an easy feat.
[ RELATED: SportsWorld sits down with Saints' captain, Jose Fonte ]
But Saints are making a name for themselves as they continue to reap the benefits from having an academy churning out top young players, plus a wonderful scouting team who pluck gems from all over the globe for a fraction of the cost they are selling players on for.
The big aim for Saints is now to make that step from challenging for the top six to being a top four team. They've been a selling club for many years as the likes of Gareth Bale, Theo Walcott and many others have been nurtured and then sold. Now, with vultures circling to try and sign the likes of Nathaniel Clyne and Morgan Schneiderlin this summer, they most hold onto their star men and augment their squad by adding talented youngsters and key pickups that Koeman can get his hands on from his vast contacts across Europe.
If they can do that, and Koeman sticks around for the next two to three years, Saints could make this habit of surprising everyone a regular occurrence.
Five years is a long time in soccer and a lot can change with personnel, form and the emergence of other teams but if Saints stay focused and have players who believe in the goal to reach the Champions League and are good enough to achieve it, then what's stopping them from making it a reality?