CAN CHELSEA CREATE A DYNASTY?
You can bet your bottom dollar that no sooner than the blue and white confetti had finished falling onto the pitch at Stamford Bridge on Sunday that Jose Mourinho was already making plans to repeat this success next season.
[ RELATED: Seven moments that defined Chelsea's title win ]
Chelsea clinched the Premier League title by beating Crystal Palace and will be handed the trophy on May 24 following their final home game. It is their first PL title since 2010 and it was Mourinho's third title in five seasons in charge of the English club. However his mind will now be focused on creating a club capable of replicating success year after year at home and abroad. A dynasty, if you will.
[ RELATED: Chelsea claim title in record breaking style ]
Since Manchester United won three-straight PL crowns in 2006-07, 2007-08 and 2008-09, no club has successfully defended its PL crown as Chelsea, Manchester City and United have all prospered but then failed to build on their single-season dominance. No dynasty has been created in the PL. Now, Chelsea and Mourinho has a chance to build one but unlike his first spell with the Blues when he delivered two back-to-back titles, the makeup and challenges the PL now possesses make it a vastly different landscape and Mourinho knows it. He has been lambasted by many this season for a cautious approach down the stretch and chants of "boring, boring Chelsea" from opposition fans are filled with both jealousy that their own team can't grind out wins ruthlessly and a hint of truth about Chelsea's cautiousness.
[ RELATED: How did Chelsea's players grade? | Defending Chelsea ]
However, there's no denying that the Blues were the best team in the league this season from start to finish. At the end of the season they will have lead the PL for a record number of days during the season, 274. Here's a few factors which will determine if Mourinho can build on the domestic success of 2014-15:
Fending off rivals – This is a challenge Mourinho will relish. Manchester City will buy big over the summer as Financial Fair Play sanctions will have been lifted. Manchester United have the ability to sign the  est players in the world under Louis van Gaal and then there's Arsenal. The Gunners are a few players away from being serious title contenders and all three teams will do plenty over the summer to try and claw their way back to the top of the table and usurp Chelsea. When Chelsea won back-to-back titles under Mourinho from 2004-06, United were their only serious rivals but the Blues will likely have three more next season.
Financial Fair Play – One of the biggest disadvantages Chelsea has is that the money it can spend on players is restricted compared to its rivals. The capacity of Stamford Bridge, among other things, impacts their spending and even though their one in, one out transfer policy in recent seasons has been managed wonderfully (remember, Juan Mata, David Luiz and Romelu Lukaku have been replaced with Cesc Fabregas and Diego Costa plus a hefty profit) but soon Mourinho will run out of bargaining chips to cash in. Despite Russian oligarch Roman Abramovich's incredible wealth, he cannot match the billions Sheikh Mansour is pouring into Man City and the financial juggernauts of Manchester United and now Arsenal after their debt has been whipped away. Superior spending power doesn't always mean success but it certainly helps close the gap and will hinder Chelsea's hopes to win championships consistently.
Emerging youth – John Terry, Didier Drogba and Petr Cech were dancing around at the Bridge on Sunday, celebrating their fourth PL title as Chelsea players. The latter two have played supporting roles this season but Terry has been superb. The 34-year-old captain has been the best defender in the PL and has signed a new deal for next season but Kurt Zouma is waiting in the wings. Despite the presence and importance of veterans on this title winning squad, youngsters are coming. Chelsea has won the FA Youth Cup in the past two seasons as well as UEFA's U-19 title. Expect to see talents like Ruben Loftus-Cheek, Patrick Bamford, Dominic Solanke, Nathan Ake, Lewis Baker and others in action next season. It may be a few years before any of those names become commonplace in Mourinho's starting lineup but that's because he still has Eden Hazard (24), Cesc Fabregas (28) and Diego Costa (26) with plenty of years ahead of them. Those three each sprinkle the stardust to offset Chelsea's robust defense and they are all either entering their prime or have it to come. Good news for Chelsea fans.
Mourinho's longevity – Due to his brash and explosive nature, Mourinho doesn't stick around too often wherever he manages. He stayed at Porto for two years, Chelsea for three, two at Inter and three at Real Madrid before heading "home" to Chelsea. Over the past two seasons we have seen a more mellow Mourinho, with odd flashes of the exuberant egotist which makes him such a polarizing figure. Mourinho has spoken of his desire to remain at Chelsea for as long as owner Roman Abramovich wants him. If Mourinho remains at Chelsea for the next 10 years, it will have meant he has delivered English soccer's next great dynasty. The only other challenge left for him is to manage his home country, Portugal. But at the age of 52, he has plenty of years left in him in club management before that arrives.
European glory – Now that Mourinho has proved he can rebuild a side and lead it to PL glory, he most now switch his attention to the one trophy he covets most but has not won as Chelsea boss: the UEFA Champions League. He has won it for both FC Porto and Inter Milan but has fallen at the semifinal hurdle on three occasions as Chelsea boss. The Blues won the UCL trophy in Mourinho's absence after their fairytale run to the title under interim boss Roberto Di Matteo in 2012. Their Portuguese boss will now set his sights on matching that achievement.
So, we had the great Liverpool side of the 1980s, the superb Manchester United squad of the 1990s and then a lot of back and forth over the past 15 years as United threatened to create another dynasty but never quite sustained it as Chelsea and Man City muscled in. Now, can Chelsea finally deliver a dominant side which will be the champions of England for an elongated period?
[ VIDEO: Premier League highlights ]
It is a tough challenge but if anyone can deliver trophies, find a way to win that best suits the strength of the players at his disposal and deliver sustained success, it's Mourinho.
NEWCASTLE'S "SITUATION"
Premier League Schedule – Week 35

Deary me. What is going on up at St James' Park? Every season at least one club in the Premier League turns into a soap opera and the 2014-15 campaign has seen Newcastle United become the main attraction. In previous seasons the anger of locals towards owner Mike Ashley and former manager Alan Pardew made the headlines. Now it is caretaker boss John Carver who is the main protagonist.
[ RELATED: Watch full match replays ]
Carver "lost the plot" following Newcastle's 3-0 defeat at Leicester City on Saturday, as he insinuated that central defender Mike Williamson got himself sent off on purpose and questioned the commitment of the players at his disposal. That prompted a statement to be released by the club on Monday claiming that "frank dialogue" with Carver, the club and senior players has been had over the past few days.
The long-time assistant coach and local lad has been thrust into the spotlight as Newcastle's season goes from bad to worse. Since Carver took charge in January the Magpies have picked up just nine points from a possible 48 and the players seemed to have downed tools as uncertainty around the direction the club is heading in goes on.
The buck stops at the owner and Ashley's insistence to almost write this season off when Pardew walked out of the door to join Crystal Palace in January says it all. The players are coasting and they will probably just stay up despite a collapse unlike any seen in PL history. Empty seats and protests from fans are warning signs that this lack of investment in players from Ashley can't go on but will he ever change? Unless he sells the club, Newcastle's fans will be unhappy for a very long time.
In the video below our analysts break down Newcastle's demise and wonder if they might be the club who slips into the bottom three after eight-straight defeats heading into the final match of the season. They also touch on the sticky situation Newcastle's north east rivals, Sunderland, find themselves in.
RACE FOR FOURTH
Well, the top four race is back on. With Manchester United losing to West Bromwich Albion on Saturday, suffering three-straight defeats in the Premier League for the first time since 2001 in the process, Louis van Gaal's men have reignited hopes of finishing in the top four for Liverpool.
[ RELATED: Latest PL standings ]
Brendan Rodgers' side are four points behind United with three games to go but seem to have a more favorable schedule than the Red Devils. Here are the remaining games for both sides:
Man United
Crystal Palace (Away)
Arsenal (Home)
Hull City (Away)
Liverpool
Chelsea (Away)
Crystal Palace (Home)
Stoke City (Away)
If United lose to Arsenal on May 17 and succumb to the cauldron of Selhurst Park this weekend, this race for fourth place could go down to the final game of the season. Liverpool will likely need to pick something up at Stamford Bridge against the champions but if they can do that and United slip up then they could sneak into the the Champions League via the backdoor at the expense of their bitter rivals.
Below are the highlights from Week 35 in the PL, just in case you missed anything.
WAVE GOODBYE TO QPR, BURNLEY
Mathematically, Burnley and Queens Park Rangers are both still Premier League clubs but in reality their days in the top-flight are over.
Burnley is eight points off safety with three games to go, QPR seven. There's no saving themselves now. A miraculous escape would result in them winning all three of their final matches and the likes of Sunderland, Leicester City, Hull City, Newcastle and Aston Villa not picking up any more points. Stranger things have happened, but a quick return straight back to the Championship awaits. Burnley have been frugal and their downfall has been a lack of goals as Sean Dyche's side have battled beyond their means and the PL is set to lose its smallest town. As for QPR, well, severe mismanagement from both former boss Harry Redknapp and at the director level has seen them spend extortionate amounts of money on players who have under performed. Interim boss Chris Ramsey is a good manager and has added belief in recent weeks that the R's could get out of danger but they will come up short. The bigger issue is Financial Fair Play and whether or not they will be allowed to compete in the Football League next season due to the rash over-spending of owner and chairman Tony Fernandes. That story will rumble on this summer.
As for the rest, it seems like one from five will join QPR and Burnley in being relegated. Wins for Sunderland, Leicester City and Aston Villa at the weekend were much-needed, while West Brom's shock victory away at Man United all but secured their survival. With Newcastle's season spiraling out of control and Sunderland's final two games of the season away at Arsenal and Chelsea, the two north east clubs look the most vulnerable to go down as Villa and Leicester has hit form at the perfect time of the season.
Here's how things stand with three games to go as the race against relegation will take center stage in the final weeks of the PL season.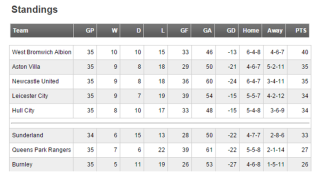 Premier League Playback comes out every Monday as PST's Lead Writer and Editor takes an alternative look at all the action from the weekend. Read the full archive, here.