Juventus is the real deal.
They proved that in Turin on Tuesday as Carlos Tevez lead them to a 2-1 victory over Real Madrid.
[ RELATED: Juve beat Real 2-1 ]
The reigning European champions couldn't cope with the high-pressure of the Italian champions and Juve's experienced core prevailed to take a slender lead into the second leg at the Santiago Bernabue next week.
Here are three things we learned after a pulsating clash in Italy.
HIGH-PRESSING PAYS OFF FOR JUVE
Early on Juventus came flying out of the traps and pinned Real Madrid back. It was relentless from the home side but proved impossible to keep up as the Italians took a breather in the first half and were caught out by Real Madrid as Cristiano Ronaldo scored his 76th Champions League goal, overtaking Lionel Messi for the night, and despite dominating Real they only have a one-goal lead to take to Spain with them. That said, it was admirable application from Juve as their oldest outfield player, Andrea Pirlo, covered the most distance during the match. Arturo Vidal was the heartbeat of Juventus' side as the Chilean destroyer broke up the play and allowed the likes of Alvaro Morata and Carlos Tevez to stay high and occupy the shaky Madrid backline. Tevez epitomized Juve's workrate and the leading scorer in Serie A saw his shot parried into the path of Morata for the first and his driving run won the penalty kick, which he scored, for the second. The Argentine warrior is the perfect spearhead for Juventus' wily side and his relentless running set the tone for a famous win for La Vecchia Signora. Tevez has now scored eight times in the Champions League this season and stole the show.
[ VIDEO: Ronaldo scores 76th UCL goal, makes history once again ]
It was all about high-pressing from Juve. There was poise to Massimiliano Allegri's tactics. He knew his side couldn't continue to press Real's stars higher and higher up the pitch so Juventus switched to a back three once they went 2-1 up to give themselves more protection. It worked, as they stood off Real and dealt with long, floating balls into the box with ease.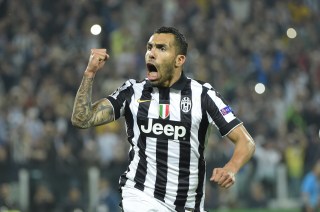 AGE BEFORE BEAUTY
Juventus' squad is ageing like a fine French wine. On Tuesday their legendary goalkeeper Gianluigi Buffaon was 37, while Pirlo (35), Patrice Evra (33), Carlos Tevez (31), Giorgio Chiellini (30) and Stephan Lichtsteiner (31) all started and provided bags of experience. Allegri has sprinkled in the youth of Paul Pogba and Alvaro Morata to balance things out this season as the Italian side clinched their fourth-straight Serie A title last weekend. On the back of that triumph that were spurred on by an incessant home crowd who were witnessing Juve's first appearance back in the UCL semifinals since 2003. The old heads did not let the team down and even the likes of Fernando Llorente (30) and Andrea Barzagli (33) helped shore things up late on as Allegri tweaked his formation. Plus Llorente shoudl have done better with a late header he sent straight at Iker Casillas.
[ RELATED: Champions League schedule ]
With the Serie A title wrapped up, Juve's old boys will now get plenty of rest between now and the second leg in Madrid next Wednesday. Nobody expected Juventus' old guard to make a run to the Champions League final this season but they are 90 minutes away from achieving just that. Juve's experience prevailed over Real's star-power in the first leg.
BALE LOST IN HEAT OF THE BATTLE
Returning from injury for his first start in three weeks, Gareth Bale was a shadow of his usual self. As the stat above shows, he failed to make an impact in the first half and it took him until the 65th minute to produce a glimmer of quality as he cut back on his left foot in the box and clipped a cross to the back post which just evaded the onrushing Ronaldo. The 65th minute. That was as good as it got before he was substituted for Jese and the Welsh wizard had another night to forget in a Real Madrid jersey.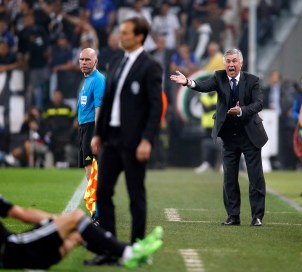 It wasn't just Bale who looked lost, playing in the unfamiliar role of central midfield Sergio Ramos gave the ball away time and time again as the center back was bullied into rushing passes by Vidal. With Luka Modric out injured and Sami Khedira left out of the squad due to his contract situation which will see him become a free agent in a month, Toni Kroos played slightly deeper alongside Ramos and the German playmaker sprayed the ball around superbly. However, Real's midfield couldn't support Ronaldo and Bale sufficiently and the balance seemed off. That's something they have a week to tweak and get right for the second leg. Pepe could play in a true holding role and allow Kroos to roam, while Khedira could be brought in from the dark or perhaps Asier Illarramendi will be thrust onto the big stage. Carlo Ancelotti has options, but he also has a one-goal deficit to overturn.
There were moments of brilliance from Real in the first half after Ronaldo equalized. In the 40th minute a sumptuous flowing move down the left saw Isco's overlapping run produce a cross that James Rodriguez somehow headed against the bar from four-yards out. The situation is not disastrous for Ancelotti, his side can win 1-0 at home in the second leg and go through, but Real Madrid's manager will be a little worried after his team were bullied out of the first leg. He needs his star men, like Bale, to step up if Real's quest to defend their UCL crown will continue.