With the UEFA Champions League hogging all the attention these days — with good reason — it would be pretty easy to forget about the Europa League, Europe's second-tier continental competition.
[ FOLLOW: All of PST's CL coverage | UEL ]
The Europa League's semifinal round kicked off on Thursday, and here's how things stand after the first legs.
Sevilla 3-0 Fiorentina
The defending champions are taking the challenging of defending their Europa League title ever so seriously, while also maintaining a top-four challenge in La Liga in order to cover all their bases for qualification into next year's Champions League (beginning this year, the winner of the EL qualifies for the following year's CL).
Sevilla took an early lead through Aleix Vidal's 17th-minute strike, which capped off an intricate, well-worked bit of passing down the left wing. Carlos Bacca laid the ball back to Vidal at the top of penalty area, where the 25-year-old Spaniard uncorked low blast to the far post and wrong-foot Fiorentina goalkeeper Neto.
[ CL RECAPS: Barcelona 3-0 Bayern Munich | Juventus 2-1 Real Madrid ]
Vidal doubled his tally in the 52nd minute, bagging just his fifth goal of the season, to finish an incisive counter attack down the right side of attack. Vitolo provided the through ball that put Vidal into the penalty area all by his lonesome, and once Neto cheated early to protect his far post, the finish was straightforward for Vidal, who slid the ball near post and into the back of the net.
Vidal nearly completed his hat trick in the 75th minute, turning a cross from Benoit Tremoulinas toward to far post, but with the ball destined to sail wide of the goal, Kevin Gameiro, into the game mere seconds beforehand, redirected a tap-in shot past an outstretched Neto to make the score 3-0.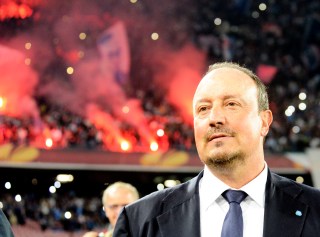 Napoli 1-1 Dnipro
In Naples, Napoli, massive favorites ahead of the first leg, hold no lead over Ukrainian side Dnipro.
David Lopez headed home Lorenzo Insigne's cross in the 50th minute to give Napoli a 1-0 lead just after halftime. The goal was the first of the season for Lopez, a defensive midfielder by trade. Dnipro equalized in the 80th minute, when Evgen Seleznyov knocked home Artem Fedetskiy's cross from close range. With the second leg to be played in Ukraine, Dnipro might just be favorites to go through.
Second legs of each semifinal will be played next Thursday with two places in the Europa League final, to be played in Warsaw, Poland, on the line.