LONDON – On Sunday Liverpool's hopes of finishing in the top four were all but ended after a battling 1-1 draw with Chelsea at Stamford Bridge.
[ RELATED: Three things we learned ]
Brendan Rodgers' side took the game to Chelsea in the second half after a slow start which saw John Terry head Chelsea into the lead, but the Reds squandered numerous chances as Raheem Sterling and Philippe Coutinho went close. Rodgers was pleased with his teams display but a challenge from Cesc Fabregas on Sterling in the first minute enraged the Liverpool boss, as he felt Chelsea's Spanish midfielder should have been shown a straight-red card.
"He [Sterling] recovered exceptionally well. It was a poor challenge by Fabregas. He should have been sent off," Rodgers said. "Out of control. Diving. Stretching. It was a poor challenge and Raheem has done well to stay on the field and play ever so well in the second half."
[ VIDEO: Gerrard equalizes for Liverpool ]
That lunging tackle from Fabregas aside, Liverpool's failure to win on Sunday means they now sit six points behind fourth-placed Manchester United with two games to go. Liverpool also have a inferior goal difference of 14 goals and Rodgers admitted his side are already building towards next season and getting back into the top four. Rodgers admitted it will be tough, like always, to attract the right type of players but he is looking at a summer of heavy recruitment to get Liverpool back in the race for Champions League action.
"Our lack of goals has really hurt us this season but the players have done everything, we want to finish it well but for us, it is pretty clear the areas we need to improve in," Rodgers said. "If we can do that over the course of the summer, which will be a big summer for us, then hopefully it will set us back on the track again."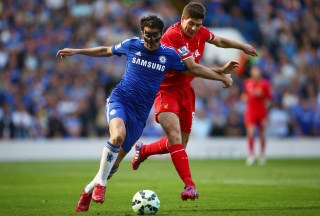 Liverpool captain Steven Gerrard continued his superb swansong as he scored for the second-straight PL game running to grab a point for the Reds as his departure to Major League Soccer looms. The ovation he received at the Bridge was warm when he was substituted 10 minutes from the end, despite some derogatory chanting from the home fans throughout the years, and Gerrard was hailed by Chelsea boss Jose Mourinho as a "dear enemy" for the Blues over the years.
"It was brilliant, he has taken a lot of stick here over the years but I think the Chelsea supporters knew deep down, it is only because he is a superstar player who has been a thorn in their side for many years. They showed a great appreciation when we took him off," said Gerrard's manager, Rodgers.
Gerrard also appreciated the ovation from Chelsea's fans but also remembered plenty of times he has been lambasted by fans of the west London club after his costly slip against the Blues last season all but ended Liverpool's title hopes, and after he turned down a move to Chelsea in 2005.
"It was a nice touch [from the Chelsea fans]. I know they've absolutely murdered me for years because I never signed here," Gerrard said. "It was nice touch but I'm well aware it was only a moment. I've had great support from the Liverpool fans, that's all that matters to me."
As Gerrard's time at Liverpool is coming to a close, Rodgers still isn't sure how, or if, they can replace their legendary captain.
"I've said before, he is irreplaceable really," Rodgers said. "One way or the other whether that is players coming in or players that are here taking a step forward. It is going to be crucial. He is a player who makes the big contributions when needed and has done for many years."
Rodgers finished up by answering a question on what he thinks of the 2014-15 PL champions Chelsea, and then discussed where Liverpool is at as they look back at a season of struggled which will end without a top four finish.
"I'm not so worried about Chelsea. I am  more worried about my own team. Chelsea are the deserved winners and they brought in three quality players that made a difference for them this year. Simple as that," Rodgers said. "They have been the best team consistently. For us, we have fought for everything. We sit in fifth place and that's probably where we are at. If we are going to make the next steps we need to find some acquisitions in the summer that will help us do that but the players I've worked with all season have been brilliant. They have given everything and like today, we were very unfortunate."
As for the boss of the current champions, Mourinho believes that although Liverpool finished outside of the top four this season, the Reds will be challenging for the title once again next season.
"Last season they were almost there, they finished second and this season they finish fifth. Somebody else will finish fifth next season. This is the Premier League. Last year it was Manchester United out of the top four, this season it is Liverpool and next season it will be somebody else. We have to make sure that Chelsea is not the one."