Watford and Bournemouth have already clinched their places in next season's Premier League, while Burnley will head back to the Championship and QPR could join them in just a few hours.
On May 25, the final place in the Premier League will be decided at Wembley, when two of the teams ranked third through sixth in the Championship will contest the playoff final.
[ MORE: Bundesliga wrap | Spain & Italy ]
Who's on track to get to Wembley? One semifinal pairing is even and the other has a leader after one leg.
Brentford 1-2 Middlesbrough
As much drama as you'd like between the sides from London and the Northeast. Jelle Vossen headed a corner kick home in the 26th minute to give Middlesbrough a 1-0 lead, but Andre Gray's takeaway goal made it 1-1 early in the second half. The clubs looked set to walk into the second legs even when Fernando Amorebieta's first touch through traffic bounded into the Brentford goal. Friday brings the second leg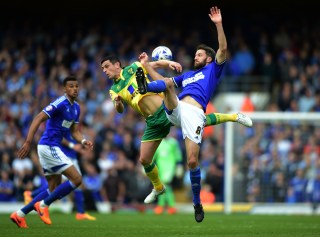 Ipswich Town 1-1 Norwich City
In what was the 98th East Anglian Derby, the two goals in Saturday's first leg came within five minutes of each other. Jonny Howson's 41st minute goal only provided a brief lead for the Canaries, as Paul Anderson netted in the 45th to send the match to halftime, and then back to Carrow Road for next Saturday's second leg, even at 1.