Despite losing to Bayern Munich 3-2 on Tuesday, Barcelona reached the UEFA Champions League final for the first time since 2011 after a 5-3 aggregate success.
[ VIDEO: Barca's stars combine ]
Bayern gave it a real go, especially in the second half, but Barca's magical trio of Lionel Messi, Luis Suarez and Neymar did the damage in the first half as they will now play either Juventus or Real Madrid in the UCL final in Berlin on June 6.
Here's three things we learned from a manic night in Munich.
MESSI, SUAREZ, NEYMAR WAY TOO GOOD TOGETHER
Over the years there have been great attacking trios who have taken the soccer world by storm. Napoli had Diego Maradona, Bruno Giordano and Careca. Manchester United had George Best, Dennis Law and Bobby Charlton back in the day and Cristiano Ronaldo, Wayne Rooney and Carlos Tevez more recently. The great AC Milan side of the early 1990s had Frank Rijkaard Marco Van Basten and Ruud Gullit. Right now, Real Madrid possess Gareth Bale, Karim Benzema and Ronaldo but their greatness pales in insignificance in comparison to what we have seen from Neymar, Lionel Messi and Luis Suarez this season.
In the first half the trio combined twice to rip out Bayern's heart and put Barca 2-1 up on the night and 5-1 up on aggregate to all but end the contest. Neymar score both goals off assists from Suarez and the Brazilian now has nine goals in the UCL this campaign. He could have scored a hat trick late on but instead decided to pass to Messi who was better positioned. That perhaps sums this trio up. All three are capable of carrying the attacking prowess of a team like Barcelona by themselves but they realize that if they are unselfish and work together then they can go down as one of, if not the best, attacking trios in soccer history. Suarez was taken off a half time probably to rest his legs but also to give Bayern's defense a rest. The former Liverpool man is hitting full flow at the perfect time of the campaign. Now he and his Barca teammates have their first UCL final in four years to look forward to. Can anybody stop Barcelona's South American superstars? Gems from Argentina, Uruguay and Brazil are working together to create a sparking diamond as they have now netted 114 goals between them this season. Truly incredible.
Sidenote: As those three, rightly, grab the headlines it is also worth a mention for Xavi Hernandez. The Barca legend came off the bench in the second half and became the only player in UCL history to make 150th appearances. In his 151st he could well lift the UCL trophy for the fourth time in his Barca career.
BAYERN NEED DEFENSIVE REVAMP
What we have learned over the two legs is that Bayern Munich's defense is in drastic need of a revamp. Granted they were coming up against the magical trio we have just waxed lyrical about, but the likes of Jerome Boateng and Medhi Benatia were caught ball-watching and their positioning was poor as they were dragged all over the place. Yes, we know they had to go for it in the second leg but after Benatia's header put Bayern 1-0 up they should have sat back, soaked up some pressure and timed their attacks. Instead Bayern's defenders continued to push forward and Barca's second goal epitomized Bayern's lazy defending as Messi (of all people) won a header and gaping holes appeared in the German champions defense. Looking around at Bayern's other defenders, Philipp Lahm is 31 and should be playing at full back as opposed to in midfield. David Alaba is injured. Holger Badstuber always seems to be struggling with injury and Dante was ripped apart by FC Porto and is the wrong side of 30. Changes are needed.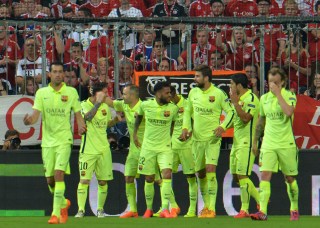 Putting their defensive woes over these two legs into context, Bayern have only conceded 16 goals in the Bundesliga all season but if they want to get to the next level and win the Champions League next season then Guardiola must bring in at least one top class center back and another full back, as Bernat was at fault for two goals at the Nou Camp in the first leg. Going forward they possess plenty of weapons but strengthening at the back must be Bayern's remit during the offseason.
GUARDIOLA'S SIDE GO DOWN FIGTHING
They came up three goals short but boy did Pep's boys go down fighting. Winning the second leg 3-2, Guardiola and Bayern could at least hold their heads high as they crashed out of the UEFA Champions League at the semifinal stage for the second-straight season. With plenty of speculation surrounding his future as manager and former club legends saying the current squad "do not believe" in Pep, that clearly isn't the case after a rousing display which saw them win but come up short. Had Franck Ribery and Arjen Robben been fit then maybe the outcome would have been different. Those attackers, although in their 30s, would have given Barca's defense an even tougher time in the second half than Robert Lewandowski and Thomas Muller did.
Both Lewandowski and Muller grabbed goals in the second half and they squandered chances too. In the first half Marc-Andre ter Stegen made a superb stop from Lewandowski in the 39th minute as his shot squirmed towards the bottom corner. Muller dragged an effort wide in the second half, Benatia headed over and Lewandowski had an deflected effort wide and smashed another one that went close. Bayern outshot Barca 19-5 and had eight efforts on target. In time they will need to replace Robben and Ribery but going forward isn't the issue. Possessing a leaky defense against three of the best attackers in the world right now is what will knock you out of Europe. Bayern found that out the hard way over the last week.