Juventus went into the Santiago Bernabeu and did something nobody really expected them to do. Get past Real Madrid.
[ RECAP – Real 1-1 Juventus ]
Real has now failed to overturn a first leg deficit eight times in the knockout stages of the UCL and Carlo Ancelotti's future at Los Blancos will be under intense scrutiny as they have relinquished their crown as European champions.
Cristiano Ronaldo's early goal gave them hope but Real's old-boy Alvaro Morata came back to haunt them with an equalizer as the game finished 1-1 on the night and Juve prevailed 3-2 on aggregate.
Here's three things we learned from a tension filled night in a humid, and now disappointed, Madrid.
EX-MADRIDISTA MORATA THE DIFFERENCE
Alvaro Morata played in the UEFA Champions League final for Real Madrid last season as he helped his hometown team win the UCL crown. This season his goals in both legs of the semifinal kept Real from returning to the final as Morata latched on to Paul Pogba's knockdown in the box in the 57th minute and rifled home to silence the fans who used to adore him. Morata, 22, was deemed surplus to requirements by Real's manager Carlo Ancelotti this summer and was allowed to leave his boyhood club for $22 million. How Ancelotti may be regretting that move now.
Following both of his goals against Real (he opened the scoring in the first leg with a tap-in at the back post) the Spanish international striker declined to celebrate out of respect for his former employers. Bit of a strange one when that happens. Why not celebrate the biggest goal of your career to date? Anyway… It didn't work out for Morata at Real and he has since spoken about the real reason for his move to Juventus last summer. His relationship with Ancelotti had broken down as his time at the Bernabeu came to a close.
"It was a bittersweet and strange sensation for me," Morata said after Wednesday's game in Madrid. "These two games have been difficult for me. I want to thank the Madrid fans, I wish I had scored against another team. My former team-mates want us to win and they wished me the best. Just like in Turin, it was hard for me at times tonight but I had to focus my head quickly. That's what football is like."
For the rest of time Ancelotti is unlikely to forget the name "Alvaro Morata" as an ex-Madridista came back to haunt his old team as his two goals over the two legs were the difference and denied Madrid from becoming the first team in the modern Champions League era to win back-to-back titles. The faint whistles from the home fans as an appreciate Morata, who applauded Madrid's supporters, was substituted in the 84th minute told its own story. Madrid's fans knew they had been thwarted by one of their own.
BALE BATTLES ON BUT STRUGGLES REMAIN
Once again, it just wasn't Gareth Bale's night in a Real shirt. Lambasted by his own fans for most of this season, we are now beginning to see exactly why they have pointed the blame at his door. Bale had been out with injury before the first leg in Turin last week and since then he has put in three sub-par performances for a player of his standards. Wednesday was actually his best performance of the past week as Bale forced Gianliugi Buffon into a magnificent sprawling save in the first half but that was to be as close as he got.
In the second half he had two glorious chances to give Real the crucial second goal they craved but in the 63rd minute he fluffed Marcelo's cutback and somehow sent the ball wide of the near post from eight-yards. Granted he was under heavy pressure from Pirlo but the Bale of last season would have tucked that away. The in the 72nd minute a moment arrived which perhaps emphasized his drop in form from last season. Ronaldo clipped the ball to the back post and Bale rose high above Patrice Evra but somehow headed the ball over from close-range. It would have been an eerily similar goal to the one he scored for Real in last seasons UCL final and right now, he's struggling to get anywhere near that high-point of his Real career.
However it is worth noting that if you look at the stat above, it shows that Ronaldo went missing in the second half of the semifinal as the onus was squarely on Bale to come up big and grab the goal which would have enhanced Real's chances of making the final. It wasn't to be but at least Bale didn't shy away from the spotlight like his illustrious strike partner seemed to.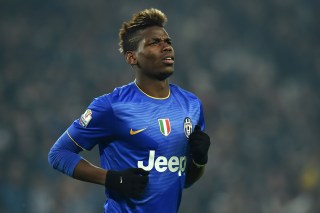 POGBA, JUVE'S CLASS SHINES THROUGH
After weathering on early onslaught from Madrid, Juventus' class shone through as the game wore on. The Italians held firm to reach their first UCL final since 2003 and it has been a long road to recovery from Juve after they were shamed and relegated to Serie B in 2006. Their ascendancy in Italy has been swift, four straight Serie A titles says as much, but many have questioned whether Italian teams could dominate Europe once again as their last UCL title came courtesy of Inter Milan in 2010. Juve has shown they can. And when they have a player like Pogba patrolling the midfield then its easy to see why. The Frenchman struggled at first to dictate the tempo but, like Juve, as the game wore on he grew into it.
The man they call "Il Polpo" in Italy started to get his tackles in and it was his header in the box which set up Morata for the crucial goal. A lung-bursting run in the final 10 minutes helped relieved pressure for Juve and, despite looking like he was struggling to move at times in the second half, in the 87th minute he popped up in the box and forced Iker Casillas into a fine save. Juve showed their poise as the second half wore on and the Italians had another great chance as Morata combined with Arturo Vidal to set up Claudio Marchisio but Casillas saved superbly. Back to Pogba, he has many suitors across Europe and if you believe the reports then Manchester City, Paris Saint-Germain and others are readying their check books for a huge bid in excess of $100 million this summer. Pogba proved on the biggest stage that he is capable of influencing the game and when fully-fit, it will take something special to stop the man they call "Il Polpo" in Turin.
With a UCL final to look forward to, plenty of attention will be on Pogba and how he can perform against Barcelona's midfield of Iniesta, Busquets and Rakitic but there will also be plenty of other storylines to look out for. Luis Suarez vs. Patrice Evra. Luis Suarez vs. Giorgio Chiellini. The masters, Xavi and Pirlo, potentially doing battle one last time and a chance for Buffon to get his hands on European soccer's greatest prize after sticking with Juve throughout the good and the bad times. Juventus vs. Barcelona in Berlin on June 6 promises to be an historic final as the Italian champions held their nerve to continue their incredible season and dreams of a treble.