Overnight Gedion Zelalem has become the next great hope of American soccer.
On Wednesday U.S. soccer announced that Zelalem, 18, had his switch from Germany to the U.S. rubber-stamped by FIFA as the Berlin-born midfielder is heading to the U-20 World Cup with Tab Ramos' side.
[ RELATED: Zelalem gets green light ]
Like Freddy Adu and Landon Donovan in the past, U.S. national team fans are now pinning their hopes on Zelalem to become a superstar and carry the Stars and Stripes for years to come.
Woooah. Easy now. Pump the breaks.
Let's take all of this Zelalem-mania with a pinch of salt. The player is undoubtedly talented, otherwise Arsene Wenger wouldn't be handing him first team appearances for the Gunners in cup competitions and Jurgen Klinsmann wouldn't be banging on Zelalem's door asking him to switch to the U.S. from Germany and already stating he is ready to play for the full national team. But the way in which Zelalem is being treated by U.S. soccer is not only cautious, it is correct. Klinsmann could have easily selected Zelalem for the upcoming friendlies with Holland and Germany, then the Gold Cup this summer, but the route they are taking with Zelalem makes much more sense.
[ RELATED: Klinsmann says Zelalem ready for USMNT ]
In the case of Julian Green, who was thrust into the spotlight before and during the World Cup last summer, he seems to have been rushed onto the international stage when he wasn't quite ready. Zelalem's integration into the USMNT will be smoother, as he can spend time getting to know other young U.S. players on the U-20 side and will make the step up to the full national team when Klinsmann believes he is ready.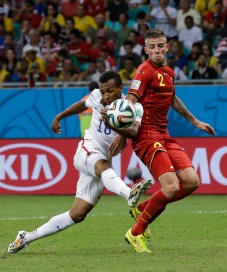 There is already pressure for him to excel at the U-20 World Cup in New Zealand this summer so fans of the U.S. can get the poster boy they've been craving for so long. But cautious optimism should be the overriding emotion as the level Zelalem is at will become apparent over the next few weeks and then maybe we can talk about him stepping into the Gold Cup squad this summer, or perhaps the Olympic qualifying tournament in the fall would be a better next step in his gradual ascendance through the ranks.
YouTube clips of Zelalem ripping it up for Arsenal's U-21 side and in preseason friendlies are promising and although all of the signs point to a player blessed with supreme skill and composure, we mustn't get ahead of ourselves. Let's just be glad that Zelalem has chosen to represent the USA and see where it goes from here. In the past, Neven Subotic and Giuseppe Rossi have turned down the U.S. when they had potential to be star players for the Nats. Getting players to switch their initial national team allegiance isn't easy, but Klinsmann is having success at it with Zelalem already representing Germany's U-15, U-16 and U-17 teams.
In terms of his national allegiance from a soccer perspective, Zelalem's background is complicated as his parents are Ethiopian but moved to Berlin and that's where Zelalem grew up before spending his formative years in the Washington D.C. area. After being spotted by Arsenal he has spent the last few years in London and his father recently applied for U.S. citizenship which has allowed Zelalem to become eligible to play for the USMNT.
When you look back at how other teenage talents such as Donovan, Adu, Bobby Convey, Michael Bradley, Jozy Altidore, Juan Agudelo and Julian Green all made their dramatic entry into the USMNT setup before the age of 19, there has been varying degrees of success and, Donovan aside, many would argue that the superstar talent capable of carrying the U.S. on a deep run at the World Cup has yet to emerge. Perhaps that is the case.
Of the names listed above, the likes of Adu and Agudelo have had so much pressure placed on their shoulders at a young age, and although Agudelo is enjoying a resurgence back in MLS right now, neither player has developed into the kind of talent the mainstream media and USMNT fans hoped for and expected. Then you have to look at Green and how all of a sudden he came from nowhere to make the U.S. national team roster for the World Cup. Yes, he scored in his only sub appearance in the Round of 16, but since then his loan move to Hamburg from Bayern Munich hasn't worked out; in his brief appearances for the USMNT in friendly matches he has looked unable to contribute, and the physical side of things has been an issue. With Green, everything seems a little bit rushed as to how he burst onto the scene.
That is why the treatment of Zelalem is spot on. Bed him in slowly, give him time to adjust to the speed of international play. After all, he hasn't appeared in the Premier League yet, and it's likely to be a few years before he becomes a regular at any PL club, let alone Arsenal.
When his time to step up to the full national team does arrive, Zelalem will become the latest in Klinsmann's long-line of German imports, but unlike the others, he has the potential to be the leading man. If he's managed correctly, like in this instance, then the USMNT will reap the benefits in the long run. Until then, "cautious optimism" should be the key phrase when it comes to Zelalem.