Brad Guzan has been at Aston Villa for eight years now, occupying the role of full-time No. 1 goalkeeper for the last three seasons, but following a horrendous mistake that led to a goal against Manchester City last month, the U.S. national team No. 1 has been given a seat on the bench the last two weeks.
[ FOLLOW: All of PST's USMNT coverage | MLS ]
As if that's not reason enough to worry about the 30-year-old shot-stopper, here a report from SI's Grant Wahl, stating that not only has Guzan been benched in the short term, but also that Villa manager Tim Sherwood has already begun his search to find a new goalkeeper for next season.
From SI's report:
I'm told that Sherwood has begun making inquiries about acquiring a goalkeeper for next season, and if he doesn't rate Guzan as a starter, there's a chance the U.S. keeper could move elsewhere.
While Sherwood might seem a bit quick on the trigger for benching and/or looking to replace and sell Guzan for a single mistake, it's also entirely possible that the first-year Villa boss simply doesn't rate Guzan as a goalkeeper. Upon taking a job (Sherwood was put in charge of Villa in February), every manager identifies a number of players, that for whatever reason, he doesn't rate, trust or see as an ideal fit. In many instances, this has happened to longer-tenured players with much larger profiles than Guzan.
[ MORE: Gedion Zelalem, the USMNT's newest young star, is being handled carefully, correctly ]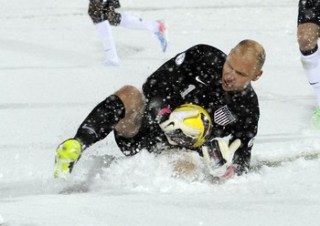 As for Guzan's prospects, it's a shame that he'll likely not be considered at all to start in this month's FA Cup final (Shay Given, Guzan's backup for much of the season, has started every FA Cup game through the semifinal round). As for next season, three new teams will be promoted to the Premier League this summer, and there's always a chance one of them could look to splash the cash for a veteran, PL-tested 'keeper.
Elsewhere around the league, the out-going transfer rumors never seem to stop swirling around Tim Krul at Newcastle United; Crystal Palace's Julian Speroni is 35 years old and sometimes unreliable; and West Ham's Adrian has had an up-and-down 2015 to date. A number of clubs abroad will also likely see a PL players with three years of top-level experience by the age of 30, and think to themselves, "We could use that guy."
If Sherwood doesn't want him, Guzan's agent will field phone calls all summer long until the "big polar bear" — that's his nickname among teammates — finds a new home.