23 days — the countdown is on. Barcelona and Juventus will square off in the UEFA Champions League final at the Olympiastadion in Berlin, Germany in 23 days, June 6.
[ FOLLOW: All of PST's CL coverage | UEL ]
While we're all still experiencing varying levels of disappointment that the El Clasico Champions League final we so badly wanted isn't going to happen this year, the matchup that came to fruition offers up more than a few of intriguing storylines.
Unstoppable force (Barca's attack) vs. Immovable object (Juve's defense)
Chew on these numbers for a bit: 55, 41 and 25 — those are the respective goal-scoring tallies (all competitions) of Lionel Messi, Neymar and Luis Suarez this season. Keep in mind, Barca still have four games left in their season, so they could easily read 60, 45 and 30 by the time June 6 rolls around.
On the other side, you've got the nearly impenetrable defense of Juve, led by Giorgio Chiellini, Leonardo Bonucci, Patrice Evra and Stephan Lichtsteiner, which is shielded by the midfield terrors otherwise known as Paul Pogba and Arturo Vidal. That unit has allowed all of 20 goals — yes, 20 — through 35 league games this season.
The styles of Barca and Juve couldn't possibly be anymore different than they are, and that makes for a fascinating tactical battle between Luis Enrique and Massimiliano Allegri.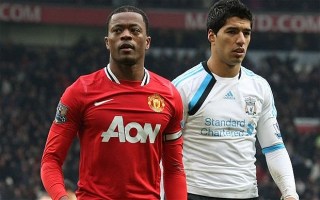 Suarez vs. Evra
Once upon a time, in a past life (for Liverpool and Manchester United, respectively), these two pleasant fellows got into a war of words during a heated derby clash. Suarez hurled comments racist comments at Evra, and was subsequently suspended eight games for the incident.
The two sides met again months later. Prior to the game, Suarez refused to shake Evra's hand or even acknowledging the Frenchman, which nearly caused a fracas part deux. Given the fluidity with which Barca attack, these two will cross paths and lock horns on multiple occasions on June 6. Advantage: Suarez, as Evra, 33, has lost a step or two.
Suarez vs. Chiellini
Same antagonist, different protagonist, but more of the same for Suarez. It wasn't the first time he bit an opponent during a game, but he still manages to one-up himself by doing it at last summer's World Cup.
Suarez was suspended four months, which included the first two and a half months of this season and his time at Barca. Keep in mind, if not for this suspension, his goals tally would be north of 40 as well. Suarez eventually apologized to Chiellini, but the fact remains that he sunk his teeth into another human being. June 6 will be their first on-field meeting since the incident.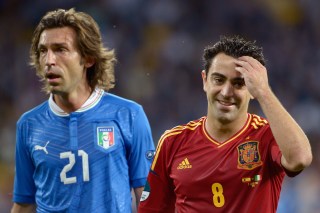 Xavi vs. Pirlo
Two of the very best of their generation to do what they do: dictate the tempo of a game in whatever manner they see fit. Two or three years ago, this would have been a matchup worthy of 60 newspaper inches, but in 2015, it's merely an afterthought as one star fades and the other holds on week by week for dear life.
While Xavi has fallen by Barca's wayside as a 35-year-old, Pirlo, his 35-year-old counterpart, continues to hold down a regular starting spot for the four-time defending Serie A champs. Soccer is a funny game that its way of aligning the stars just right. It's hard to imagine one of these two — if not both — not having a significant impact on a European cup final at some stage.
Italy vs. Spain dynamic
No less than a dozen regulars for the Spanish and Italian national teams litter the rosters and teamsheets of Barca and Juve. Two of the top footballing nations in the world the last 20 years (though, at different times), there's plenty of national pride on the line as well.
Eight of the last 26 European cups have been won by Spanish clubs, while seven have gone home to Italy. Either Spain extends its tally to a two-cup lead, or the Italians pull level since the end of the 1980s.