Last night, Boca Juniors and River Plate met for the third time this season in the second leg of their Copa Libertadores Round of 16 matchup. Five hours after the opening whistle, a horrible tapestry was woven, a shameful picture of the state of South American soccer.
Many will argue, as they always do after events such as these, that the people responsible only represent a small handful of those passionate about the sport in Argentina. But with so many parties to blame, that excuse no longer remains valid.
In a five hour ordeal Thursday night, Buenos Aires police along with Boca Juniors players, fans, staff shamed soccer, and it's up to CONMEBOL to respond accordingly or risk losing a chunk of credibility it could take years to recover.
It all started when a fan, who reports later suggested never should have been allowed to enter La Bombonera in the first place, cut through a wire fence with what appeared to be a flare and succeeded in pepper spraying River Plate players in the tunnel as halftime was coming to a close. That act alone is enough to spark a healthy dose of questions regarding the state of South American soccer, but what followed created a slew of poor decisions and disgusting displays of support for an act that rises above the level of simple hooliganism.
We'll start with the initial act. According to a few alert fans who recognized the culprit thanks to videos of the act, the man who cut through the fence and released the pepper spray had been banned from the stadium 45 days prior. The calamity of that situation is dire. How can stadiums and teams expect to keep fans and players safe when they can't even properly execute a stadium ban issued little over a month ago?
The "fan" used a flare (which he managed to bring into the stadium successfully) to cut open a chain link fence and release pepper spray (which he managed to bring into the stadium successfully) directly into the players tunnel. A complete and utter failure on the part of stadium security, Buenos Aires police, and team staff. It resulted in four players requiring treatment at the hospital for first-degree burns and Keratisis. To make things worse, the use of the flare caused phosphorous fumes to combine with the pepper spray, essentially doubling its effect on the players. Video of the immediate aftermath is here:
But it gets worse. First, it took two hours after the incident for officials to decide against finishing the rest of the match, a decision that should have taken approximately 15 hundredths of a second to make. In fact, they reportedly even considered playing the second half. But let's give the officials a pass here, because they deserve one, and it's possible they waited to announce a decision with the intention of minimizing any resulting riots that would occur.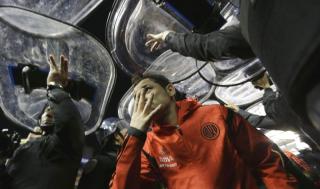 Once the decision was made, it took another two hours to get the players off the pitch because it was too dangerous with so many Boca Juniors fans ready to pelt visiting River Plate players with rocks and other objects as they left the field.
Finally, with riot police available to shield the players, both teams committed to leaving the field at the same time to minimize fan attacks, the theory being if the players all left at the same time it would be harder for fans to target just River Plate players.
Except that didn't occur. As River Plate players began to exit the field, Boca Juniors players stopped and let the River squad exit while being pelted. Not only did they leave River Plate open to be attacked, they proceeded to APPLAUD THEIR HOME FANS FOR ATTACKING THE OPPOSING TEAM.
It still took an additional 90 minutes for players to actually leave the stadium, kept in the dressing room until it was deemed safe for them to exit.
The Argentinian Security Chief, Sergio Berni, made a complete fool of himself trying to shed blame and cover his rear end, claiming that "no flares" were allowed into the stadium. Ok Sergio. Here's a few images of the crowd from prematch: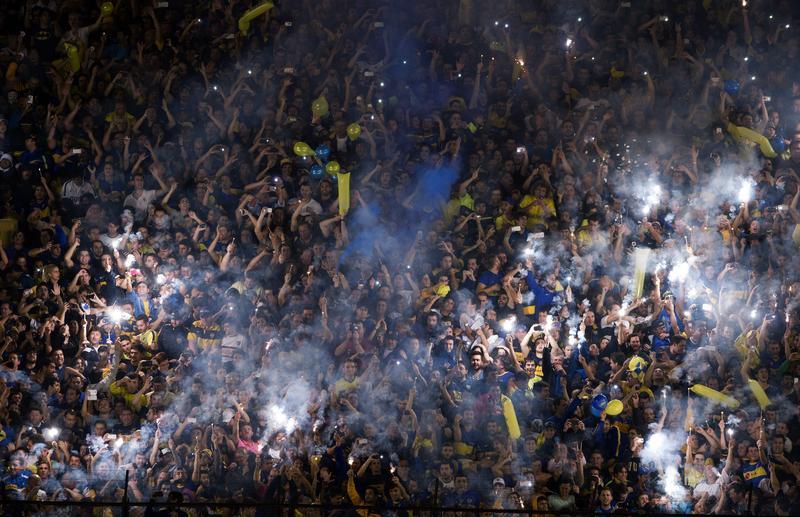 Berni went on to claim that the security operation for the match was "a success" because the players got out safely, give an excuse for how the pepper spray entered the stadium ("a frisk is a frisk"), and then trashed CONMEBOL for not acting swiftly enough.
Boca Juniors apologized for the incident the next morning on social media, but that isn't nearly enough. Even a general sweep of the situation reveals multiple failures across the board. With this in mind, CONMEBOL must act. Reports say that despite today being a bank holiday in Paraguay where their headquarters reside, the executives are meeting via video conference sometime today to decide their action.
First, they must declare River Plate winners of the match by forfeit, and remove Boca Juniors from this year's competition. Second, as ESPN reported during the aftermath, CONMEBOL has the power to remove La Bombonera from use across any continental competitions for the next two years; that's a must as well, as the stadium staff and local police failed miserably to protect the safety of all involved. Finally, Boca Juniors must be banned from continental competition for the foreseeable future.
The Superclasico, in what used to be one of the world's best rivalries, has more recently featured both inane hooliganism and a boring on-field product. Carlos Tevez has repeatedly stated he wants to return to Boca Juniors at the expiry of his Juventus contract, but still few believe him. If CONMEBOL is to save face, it must take harsh action against Boca Juniors for what occurred at La Bombonera Thursday night, or it risks letting the state of one of South America's – nay, world soccer's greatest treasures soccer slip through its fingers for good.