LIVERPOOL — "Steve Gerrard, Gerrard. He'll pass the ball 40-yards. He's big and he's f***ing hard. Steve Gerrard, Gerrard."
As Steven Gerrard walked out onto the Anfield pitch for the final time with his daughters holding his hands through a guard of honor from the playing and coaching staffs of both Liverpool and Crystal Palace, that famous song sung to the tune of "Que Sera, Sera" thundered around the terraces. Serenaded by Liverpool's faithful, mosaics simply stating "Captain" filled the Centenary Stand, plus "SG" and the number eight was emblazoned across the Kop along with a number of banners depicting Gerrard's greatest moments in a Liverpool shirt over the years.
[ VIDEO: Reliving Gerrard's farewell ]
It was a sight to behold and a fitting farewell to perhaps the greatest player in Liverpool's history, as Gerrard addressed the fans after the game.
"I am absolutely devastated I am never going to play in front of these supporters again," Gerrard reflected. "The moment you play for the first time for Liverpool is an absolute dream come true and anything else after that is a bonus for me… Before the tears come, I'd like to thank the fans. These supporters here stand out more than any. I've played in front of most supporters around the world, but you are the best."
On Saturday, the day of his final game for Liverpool at Anfield, there was a buzz in and around the stadium as banners and scarves saluting Gerrard lined the streets. All round the city people were wearing Liverpool shirts with Gerrard and his famous number eight on the back. The sense of occasion was strong in a stadium which has seen so many great moments over the years. The overall mood was one of celebration but it was also somber as Liverpool's leading man for nearly two decades would never maraud around these parts in a red shirt again.
[ VIDEO: Gerrard says goodbye to Anfield ]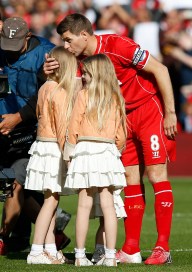 Following all of the rigmarole and procession of Saturday's match, Gerrard looked emotionally drained during the game and the occasion seemed to weigh heavy on him. When Adam Lallana gave Liverpool the lead in the 26th minute the first person he ran to was Gerrard. The joy on Lallana's face said it all, Liverpool's players wanted to send Gerrard off in the best way possible but they couldn't manage it. In the 64th minute he curled a shot towards the bottom corner which lacked the desired pace to beat Wayne Hennesey. Gerrard was moved into an advanced midfield position late in the game by Brendan Rodgers but despite a few surging runs — which were cheered on by home fans screaming "go on lad!" — there wasn't going to be a fairytale ending to his Anfield career as Liverpool lost 3-1 to Palace but his name was sung loud and proud in the final minutes of the match.
[ RELATED: Rodgers, Pardew salute Gerrard ]
The hometown hero has carried the weight of expectation squarely on his shoulders for the majority of his 17 years as a professional at Liverpool. Gerrard, 34, has been with the Reds since the age of nine and on Saturday his emotional farewell sparked scenes of celebration and sadness around one of world soccer's most hallowed stadiums.
Gerrard has chosen to move to the United States of America and start a new life with the LA Galaxy in Major League Soccer. Many feel that he should have remained at Liverpool for another one or two seasons and then retired but Gerrard has made his decision and the U.S. awaits this summer.
On the surface, the decision to leave Liverpool in his mid-30s to move abroad for the first time in his career seems like a strange one but the fact of the matter is, Gerrard has spent his entire life in Liverpool. His childhood, adolescence and adult life has been consumed by one thing: Liverpool Football Club. Born and raised just 6.5 miles from Anfield, Gerrard has admitted that his entire life all he ever wanted to do was play for Liverpool. That hunger and drive saw him break into the first team as a teenager in 1998 and he has remained their ever since.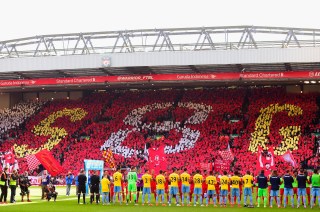 As he strode around Anfield at the end of the game and applauded every stand and looked up to the vast rafters of the Kop wistfully, Gerrard's bond with the fans seems unbreakable. That's because it is. He's one of them. Through the good times and the bad. When Liverpool fans mourned the 96 fans lost in the Hillsborough disaster of 1989, Gerrard's family mourned more than most. Gerrard's younger cousin Jon-Paul Gilhooley was the youngest victim of the Hillsborough disaster and Gerrard ended his 2006 autobiography with the simple yet powerful sentence: "I play for Jon-Paul."
Gerrard also explained that the death of his cousin in the greatest soccer tragedy in English history had a huge impact on his career. "It was difficult knowing one of your cousins had lost his life," Gerrard said. "Seeing his family's reaction drove me on to become the player I am today."
Liverpool and Gerrard go hand in hand. Like Dan Marino and the Miami Dolphins. Kobe Bryant and the LA Lakers. Derek Jeter and the New York Yankees. One of the greatest, most successful and prestigious clubs in the world has lent on a local lad for inspiration for nearly two decades but now, reluctantly, it's time move on. He had chances to leave Liverpool for more trophies and success as Chelsea, Real Madrid and others came calling but each and every time Gerrard refrained from walking out on his club, his people, and instead stuck around to drag them to success time and time again. He epitomizes the one-club man and in modern day soccer, he may be one of the last to dedicate himself to Liverpool the way he has. The likes of Paul Scholes and Ryan Giggs were legendary figures at Manchester United but both weren't treated like this in their final home matches for United.
Before and after the game another song was belted out to signify Gerrard's stature among Liverpool's loyal supporters.
"Steven Gerrard is our captain. Steven Gerrard is a Red. Steven Gerrard plays for Liverpool. Scouser born and bred."
From his memorable goal and performance in the incredible UEFA Champions League final win of 2005 to his stunning last-gasp goal in the 2006 FA Cup final, Gerrard dragged Liverpool out of trouble time and time again. Despite captaining England at two World Cups and representing the Three Lions 114 times, he never really had the same influence as he did with the Reds.
Gerrard's hometown club and the people in it has always seemed to bring out the best in him.
The City of Liverpool (the red half, anyway) has embraced 'Stevie G' since day one and his image as the local lad come good resonated with every Liverpool fan and most soccer fans around the world. Everybody wants to see one of their own succeed and Gerrard has certainly done that, and more, after winning 11 trophies with Liverpool and captaining the club for the last 12 years. His humble demeanor has remained throughout his career and although sour looks and crunching tackles have kept his hard-man status on the field intact — he even left room for a few of those late in the game on Saturday — Gerrard's personality off it reflects his hometown. Determined. Full of grit. And hard as nails.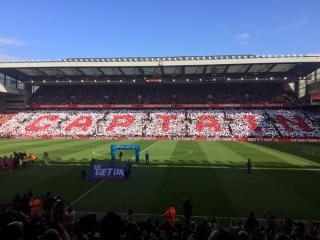 Gerrard was heavy-hearted as he was given a standing ovation by the 44,000-plus fans at Anfield on Saturday. As he walked across the hallowed turf for one final time as a Liverpool player and down the tunnel, it was a real lump in the throat moment as grown men wept in the stands. For fans of a certain age, they will have grown up wanting to replicate Gerrard's success. They will have worn the No. 8 jersey because Gerrard did. And they will have wanted to play soccer because Gerrard did. He was, and will be for quite some time, an inspiration to millions around the world. His loyalty, dedication and professionalism were the benchmarks of one the greatest careers the PL has ever seen.
Some legendary players have called Anfield home over the years. Kenny Dalglish. Graeme Souness. Ian Rush. Phil Neal. Kevin Keegan. Years from now — and even over the past few years it has started happening — Gerrard's name will be mentioned in the same breath as those greats. Nobody knows what the future may bring, if Gerrard may return to the Reds as a manger one day or in another capacity, but his name will forever be inextricably linked with Liverpool Football Club.
For the local lad who grew up supporting Liverpool and captained them for most of his career, Gerrard may have said goodbye to Anfield as a player but his heart will always remain with his boyhood club. And every fan of his boyhood club will forever have memories of Gerrard's greatness etched into their own hearts.
He inspired. He conquered. Gerrard lived for Liverpool Football Club and despite his farewell on Saturday, his heart will always remain at Anfield.