Catch up on all of Sunday's action from Spain and Italy's top flights as both leagues inch closer to the finish line.
Atletico Madrid 0-1 Barcelona
Barcelona became champions of Spain for the 23rd time in club history today as the Catalans defeated Atletico Madrid 1-0. It was only fitting that Lionel Messi scored the only goal of the match, his 41st of the season the game-winner and title-clincher. Barcelona has been the cream of the crop all season long, scoring 108 goals while conceding just 19. A well-deserved title as the Catalans will now shift their focus to the Champions League final in June.
[ RECAP: Messi goal clinches La Liga title for Barcelona ]
Espanyol 1-4 Real Madrid
Cristiano Ronaldo netted another hat trick to help lead Real Madrid to a 4-1 win over Espanyol. It was Ronaldo's seventh hat trick of the season and brought his goalscoring tally to 45 on the year in La Liga. Espanyol had leveled the score at one, but three goals in the game's final 15 minutes from Real, two from Ronaldo and one from Marcelo, handed Madrid the three points. Carlo Ancelotti's side will finish second in La Liga, and have not won the league since 2011-12.
Deportivo 2-0 Levante
Deportivo earned a massive three points to jump clear of the relegation zone with a 2-0 win over Levante. Goals from Alberto Lopo and Juanfran and a clean sheet from Fabricio put Deportivo in 17th place on the table, two points clear of the drop. However, Deportivo must face Barcelona in the final match of the season, while 18th place Eibar could jump to safety with a win over last-place Cordoba.
Elsewhere in La Liga
Real Sociedad 0-3 Granada
Sevilla 2-1 Almeria
Valencia 1-1 Celta Vigo
Getafe 1-1 Eibar
Elche 2-3 Athletic
Villarreal 2-1 Malaga
Cordoba 1-2 Rayo
_________________________________________________________________________________________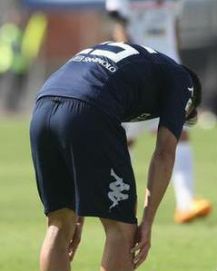 Cagliari 0-1 Palermo
Cagliari was officially relegated to Serie B after falling to Palermo 1-0. Cagliari needed to beat Palermo and have Atalanta lose in order to stay alive, and although Atalanta fell 4-1 to Genoa, Cagliari couldn't get it done at home. Franco Vasquez put Palermo ahead within the opening ten minutes of the match, and Stefano Sorrentino earned a clean sheet in net. The relegation ends Cagliari's 11-year run in Italy's top flight, as the Sardinian club joins Cesena and Parma as the three teams relegated to Serie B.
Roma 2-1 Udinese
Roma remains in second place following a come-from-behind victory over Udinese. The visitors took the lead early, but Radja Nainggolan equalized at the brink of halftime for Roma. A second-half tally from Vasileios Torosidis was enough to take the three points for Rudi Garcia's men as Roma looks to lock up an automatic berth in the Champions League next season.
Elsewhere in Serie A
Sassuolo 3-2 Milan
Atalanta 1-4 Genoa
Verona 2-1 Empoli
Torino 2-0 Chievo
Fiorentina vs. Parma (Monday, 1:0o p.m. ET)
Napoli vs. Cesena (Monday, 3:00 p.m. ET)