Melbourne Victory secured its third A-League title by defeating Sydney FC 3-0 in the Grand Final last night thanks to a first-half goal from Albanian striker Besart Berisha and a pair of late sealers.
The club had previously topped the season table, and then defeated cross-town rivals Melbourne City in the semi-final.
The match, however, became infamous for another reason, a now-viral moment from the postmatch trophy presentation. Football Federation Australian chairman, 84-year-old Frank Lowy, took a spectacular spill off the stage while attempting to pick up the trophy. Falls for someone of that age, especially one as violent as this, can often be scary. But Lowy somehow came out of it unscathed, with just a "sore shoulder" and some now-hilarious video to show for it.
What. A. Fall. With the knowledge that Lowy is okay, it's understandable to feel the need to laugh at this absolutely wonderful spectacle. Somehow, the trophy remained anchored to its base despite Lowy's weight swinging halfway around.
He would get up after a minute or two of treatment and the victory celebrations continued. But let's relive that one more time, with a freeze frame and OH NO!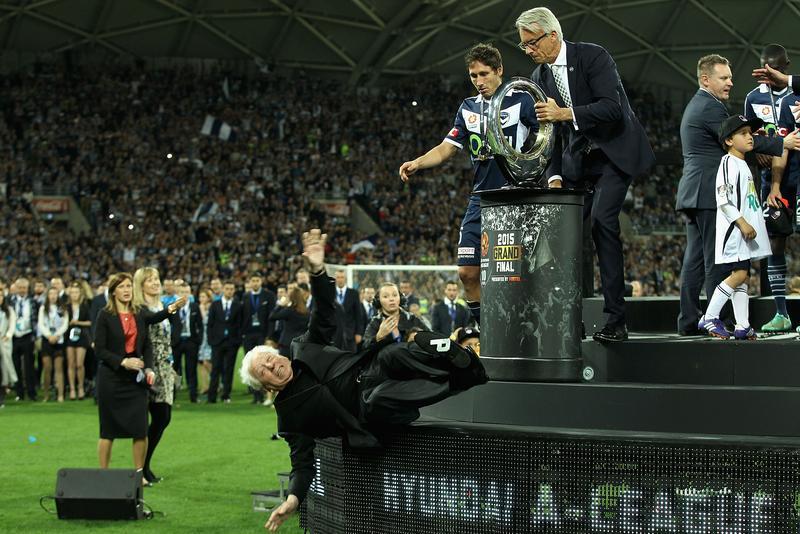 Congratulations to Melbourne Victory for winning the A-League yet again, and congratulations to Frank Lowy for having 84-year-old bones of steel.