MANCHESTER — Dubbed as the battle for third-place before the game, it was a stalemate at Old Trafford on Sunday as Arsenal fought back to draw 1-1 with Manchester United.
[ RELATED: Wenger on Zelalem's US switch ]
United are now two points behind Arsenal and the Gunners have two games remaining to United's one. Neither team wants to finish in fourth-place and enter the lottery of a UEFA Champions League play-off to get into the group stage, so grabbing a point late on was vital for Arsenal as they aim to qualify automatically for next seasons UCL.
Here's three things we learned from Manchester.
YOUNG REBORN
Ashley Young's resurgence in recent months has been remarkable. Many thought Young's United career was over last summer, as the winger bought for $28 million from Aston Villa in 2011 had Angel di Maria arriving in his left-wing spot. Young has won the spot from Di Maria and rightly so. Sure, his numbers aren't phenomenal. He's scored twice and assisted five times this season for United but other things are turning him into a fans favorite as one of their forgotten men has played a leading role in securing a UEFA Champions League return for the Red Devils. Initially deployed by Louis van Gaal as a left-wing back during preseason, Young suffered injuries and struggled to oust Di Maria in the opening  months of the season. But since February the England winger has been sublime with his work rate pleasing fans, and the quality of his deliveries causing the opposition so many issues. His late winner away at Newcastle on Mar. 4 seemed to give him confidence and he followed that up with a majestic display against Manchester City in April  where he scored and had two assists in a big derby win. Last week against Crystal Palace he ran the Eagles ragged and he was at it again on Sunday.
Against Arsenal, Young again came up big against the big teams, as he slide in and won crunching tackles much to the delight of the home crowd. His patient wing-play and delicate cross to the back post found Herrera for United's goal, then soon after Young nutmegged Hector Bellerin on the run as Arsenal's right back had a torrid afternoon trying to keep the United winger quiet. A rejuvenated Young is likely to feature in Roy Hodgson's next England squad and given his recent form, he thoroughly deserves it.
ARSENAL's SOFT CENTER RETURNS
Arsenal, once again, proved their silky, skillful core has a soft center. Francis Coquelin tried to chip away at United's central midfield but had no joy as Juan Mata, Ander Herrera and Young kept coming at him in the first half. Not until late on did Arsenal's attacking midfielders cause such problems for United's holding midfielder Daley Blind. Mesut Ozil, Alexis Sanchez and Aaron Ramsey all had says to forget but Theo Walcott arrive to inject pace in Arsenal's attack. Sanchez and Ramsey have been influential in securing another top four finish for the Gunners this season but if Arsene Wenger's side have any aspirations to win the Premier League title next season, and they do, then another midfield general needs to arrive. The current squad is settled, see below, but it does need some sprucing up.
We've said it time and time again but the likes of Morgan Schneiderlin would be a great addition and either instead of or alongside Coquelin, that would give the Gunners' core more steel and allow their flair players to flourish. Jack Wilshere's return from injury can provide them with more bite, but the Gunners arguably need a new goalkeeper and another top central defender to make any inroads on Chelsea and Manchester City ahead of them. When it comes down to it, Arsenal seem to be two or three key players short of being genuine title contenders.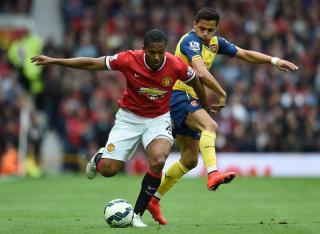 FALCAO'S FAILINGS CLEAR
The same can be said for United, especially in the striker department. The early signing of Memphis Depay should boost van Gaal's striking options next season but after giving Radamel Falcao his first start since Apr. 18 in the 1-0 defeat at Chelsea, it was clear that it's just not happening for Falcao at United. The man on loan from Monaco until the end of the season may well have played his last game at Old Trafford. It wasn't a lack of effort but perhaps Falcao was trying too hard. Early on he twisted and turned on the ball numerous times and tried to do too much which got the crowd on his back from the get-go. At every club there is always one player the fans turn on and use as a scapegoat. At United, that player is, and has been, Falcao.
In the 38th minute we briefly saw the hunger of Falcao as Juan Mata dinked a ball to the back post and the man they call "El Tigre" in his homeland charged at the ball with ferocious intent and flung himself forward to somehow get contact on it. It was a brief moment of controlled desire as he was substituted in the 61st minute and replaced by Robin van Persie amid rumors that the Dutch striker will leave United this summer and could be heading to Juventus. With Wayne Rooney out injured on Sunday, the state of United's attacking options looked a little bleak. Van Gaal is likely to get upwards of $200 million to spend on new signings this summer. It's a safe bet that a large chunk of that will be on bringing in a couple of new strikers. United need it.