Week 11 of the 2015 MLS season is in the books, and it shall go down in history as the week of "Don't Ever Bet On MLS Games," because wow, the upsets were out of this world, in almost every single game.
[ FOLLOW: All of PST's Week 10 MLS coverage | Standings | Stats | Schedule ]
We've got a Philadelphia Union player, one from the Montreal Impact, one from Orlando City SC, a San Jose Earthquake, a pair from Toronto FC, one from the New England Revolution and one from the Houston Dynamo, to go along with three from the streaking Seattle Sounders.
Thoughts? Questions? Agreements? Disagreements? (Of course not.) Leave them in the comments section, as always. I'm not afraid to defend my picks.
[ MORE: 2015 MLS Team of the Week archive ]
MLS Team of the Week — Week 11
Goalkeeper: Chris Konopka (Toronto FC)
Defenders: Jordan Stewart (San Jose Earthquakes), London Woodberry (New England Revolution), Maurice Edu (Philadelphia Union)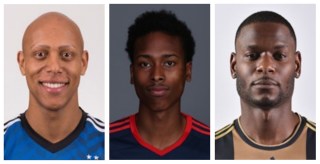 Midfielders: Andres Romero (Montreal Impact), Gonzalo Pineda (Seattle Sounders), Osvaldo Alonso (Seattle Sounders), Michael Bradley (Toronto FC)

Forwards: Chad Barrett (Seattle Sounders), Will Bruin (Houston Dynamo), Cyle Larin (Orlando City SC)