DE GEA HEADING FOR THE EXIT
"David De Gea, we want you to stay!"
That was the chant from the Manchester United fans at Old Trafford on Sunday before, during and after United's 1-1 draw with Arsenal. The message was clear, as the reigning PL goalkeeper of the season has a big decision to make this summer.
[ RELATED: Three things we learned from Man United 1-1 Arsenal ]
His manager, Louis van Gaal, knows it too and said as much in his post-match press conference.
"I don't think I can persuade him because he knows everything he has at Manchester United," van Gaal said. "I don't have to say something because he can feel it every day. You have seen the fans – unbelievable. When he is going, he is losing that. Here he has a lot of credits. He has to decide."
De Gea, 24, has been at United for four season's and this season he has been the star player for the Red Devils as they are back in the top four. However, Real Madrid are reportedly readying a bid for De Gea and the Spaniard may find it difficult to turn down a move back to his hometown.
[ RELATED: LVG knows he can't force David de Gea to stay ]
With just a year left on his contract, he has been offered a new deal by United which is said to be a five-fold increase on his current wages. De Gea is adored by United's fans and after a shaky start following his move to England as a gangly 21-year-old, the Spanish goalkeeper is now the best in the PL with several stunning displays this season reaffirming that.
However with Real looking for a long-term replacement for Iker Casillas and their current No. 2 Keylor Navas failing to impress, now would be the time to go big for De Gea as United will have to cash in on him this summer or risk losing him for nothing when his deal expires in 2016. The finances aside, can United afford to lose De Gea? This season alone he has won them 10-12 points which was the difference between them finishing inside the top four. It's a big risk for the Red Devils if their star 'keeper does leave and there's no question that LVG's plans to push on and challenge for the title next season will take a big blow if DDG departs.
[ RELATED: Watch full match replays ]
Late on against Arsenal De Gea hobbled off with an apparent hamstring injury and was replaced by ex-Barcelona 'keeper Victor Valdes. When Valdes was brought to the club in January on a free transfer following a combination of his ACL tear and his deal ending at Barca last summer, plenty of eyebrows were raised. Valdes is also a Spanish international who played for the Catalan giants throughout their dominant period under Pep Guardiola and at the age of 33 he still has at least four or five seasons left in him. If De Gea does leave, getting a replacement for a free transfer is good business for United but the jury is still out as to whether Valdes is a top, top goalkeeper. Other names such as Asmir Begovic have been linked with a move to United this summer if De Gea goes but amid all that uncertainty one thing is clear: United will struggle immensely to replace him.
After being replaced by Valdes on Sunday, De Gea was serenaded by the fans as he walked off the pitch and down the tunnel at Old Trafford for perhaps the final time in a United jersey.
The Spaniard has a big decision to make, and van Gaal isn't making it any easier on him with comments like this.
"I analyse his position and then I say he is Spanish, he is a Spanish international still behind Iker Casillas," van Gaal said. "Now a Spanish club is coming, his girlfriend is Spanish, his father and mother come every week or every two weeks here, so it is difficult."
De Gea's departure isn't quite imminent, but it's getting there.
Premier League Schedule – Week 37

RELEGATION HAUNTED HULL
And then there were three. Following the past weekends results, Leicester City and Aston Villa have survived relegation but one team from Sunderland, Newcastle United and Hull City will go down in the final week of the season.
[ RELATED: Latest Premier League standings ]
Leicester's "great escape" may be one of the greatest in history as Nigel Pearson's side have won six and drawn one of their last eight games. Remarkable. On Saturday they drew 0-0 at Sunderland and the Black Cats need one point from their final two games of the season, Arsenal and Chelsea away, to secure safety. That will not be easy to do on their own but they will likely get help in their survival bid.
The favorites to go down are Hull City. The Tigers are in 18th spot on 34 points, while Newcastle sit on 36 and Sunderland on 37 points above them. Hull have Manchester United at home on Sunday in the final game of the season with Steve Bruce's men knowing they have to win or they will be relegated after a two-year stay in the PL.
[ RELATED: Premier League schedule ]
Newcastle suffered another defeat at the weekend and they host West Ham United at St James' Park on the final day. The Magpies haven't won in 10 games, losing nine of those, and if they slip out of the PL with a combination of not beating the Hammers and Hull pulling off an unlikely win vs. Man United, there will be a venomous atmosphere at Newcastle towards owner Mike Ashley.
Here's a final look at the standings as we enter the final week of the season:
GERRARD'S EMOTIONAL FAREWELL FITTING
It was an emotional farewell for Steven Gerrard on Saturday as the Liverpool legend said goodbye to Anfield after a 17-year career with his hometown club.
[ RELATED: Gerrard gets fitting farewell at Anfield ]
Getting a guard of honor out onto the pitch and the entire stadium holding up banners, mosaics and applauding him throughout, Gerrard got the storybook ending to his storybook career. The local lad who led Liverpool for over a decade as their captain didn't get a fairytale finish on the pitch as Crystal Palace played the role of part poopers perfectly in a 3-1 win. But nobody really cared about that. It was all about Gerrard.
[ VIDEO: Premier League highlights ]
Gerrard's influence on Liverpool has been incredible over the years. His presence in midfield has seen him become the heart and soul of the team and his legacy will live on long after his final game for Liverpool at Stoke City this weekend finishes.
Personally, it was a pleasure to witness his sendoff and the incredible ovation he got before and after the game from his adoring fans.
A one club man. A Liverpool legend. A hero to those in his hometown and around the world. Gerrard's Anfield career will be remembered for decades to come as he walked out of the hallowed stadium for the final time as a Liverpool player as his new adventure in MLS with the LA Galaxy awaits.
MANE'S INCREDIBLE 176 SECOND HAT TRICK
Sadio Mane. Take a bow. On Saturday Southampton hammered Aston Villa 6-1 to end their home schedule in style at St Mary's. Mane scored three times in 2 minutes and 56 seconds to score the fastest Premier League hat trick in history.
Liverpool's Robbie Fowler had the previous record of 4 minutes and 33 seconds back in 1994 but Mane's pace and precise finishing shaved over 90 seconds off that record as a rampant Southampton ripped Villa's shambolic defense apart. Going into the final weekend Saints can finish in fifth if they beat Manchester City and qualify out-right for the Europa League.
Mane was one of Ronald Koeman's main signings in his first season in charge and the Dutchman expects even more from the Senegalese striker next season. A record points tally. A record high position in the PL and now a player who holds the record for the fastest hat trick in PL history. Safe to say, it has been a record-breaking season for Saints.
WENGER TALKS ZELALEM
On Sunday following Arsenal's 1-1 draw at Manchester United, ProSoccerTalk got a chance to pick the brains of Arsenal's boss Arsene Wenger about his young talent Gedion Zelalem.
[ RELATED: Wenger pleased Zelalem picked USMNT ]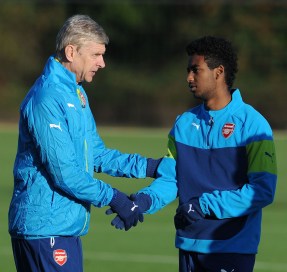 Zelalem, 18, caused quite the stir last week as it was announced FIFA had rubber-stamped his switch from Germany to the USA for his international career. The Berlin-born midfielder moved to the Washington D.C. area at the age of 10 until he was 15, then Arsenal took him to England. We asked Wenger what he thought about Zelalem's decision to switch his national allegiance.
"I leave the freedom to the players to play for the country where their heart is," Wenger said. "There are more and more people who have been educated in two or three different countries. He is an interesting case because he has been educated until the age of 9-10 in Germany and then 10-15 in the States. That is maybe the age where you go out of the family and start to have friends. He felt he wanted to play for the States."
[ RELATED: Caution over hype: U.S. handling Zelalem well ]
Wenger also touched on his plans for the future and how USMNT head coach Jurgen Klinsmann will be a "fantastic" role model for the talented midfielder.
"It is possible [a loan move] but I always test the players in preseason," Wenger said. "After preseason I make an assessment on how close they are to the first team. If he is not close next year then yes, he needs to play somewhere."

"Jurgen has all the knowledge that is needed at the top level. He has now started to have a good experience as a coach as well. It will be fantastic for him [Zelalem]."
Premier League Playback comes out every Monday as PST's Lead Writer and Editor takes an alternative look at all the action from the weekend. Read the full archive, here.