Following the news on Monday evening that Raheem Sterling is set to snub a $150,000 a week contract offer from Liverpool this week and ask for a transfer, the 20-year-old winger was lambasted and vilified across the globe.
[ RELATED: Sterling's agents questioned ]
Sterling's loyalty towards the team who gave him a chance to breakthrough into the PL is being questioned, and last month he gave an ill-advised interview with the BBC claiming he is "not a money-grabbing 20-year-old" and wants to win trophies, before then turning down a new deal Liverpool had offered him.
Is it about money and the youngster being greedy, or is this about Sterling wanting to win trophies and seeing that he has a better chance of doing that elsewhere?
True, the way his agents have handled these lengthy contract negotiations with Liverpool have at times been shambolic but should Sterling be vilified for wanting to move elsewhere in order to win trophies and play in the UEFA Champions League?
Liverpool is, and still are, a great club to play for. But the fact of the matter is, Brendan Rodgers' side cannot offer UCL soccer next season and he is yet to win a single piece of silverware in his three seasons as manager at Anfield.
Sterling is only 20 years old and has plenty of room for improvement but he has now had two full seasons in the PL and is a regular for the English national team. He has scored seven goals and added seven assists in the PL for Liverpool this campaign and despite some bizarre off the field antics which landed him a slap on the wrist from Rodgers, he has had another good season in England's top-flight.
The Jamaican-born winger has two years left on his current deal but the likes of Arsenal, Manchester City, Real Madrid and Bayern Munich are rumored to be eyeing up a bid for him this summer. All of those clubs have real chances of winning silverware and no disrespect to Liverpool, but the teams interested in Sterling would be a step up for him. At times this year his finishing has let him down and Sterling has failed to impact games the way he did last season when Liverpool came oh so close to winning the PL.
[ RELATED: Wenger talks Zelalem's USMNT switch, future plans ]
His pace is absolutely electric and frightens the heck out of opposition defenders. Rodgers has played Sterling up top on his own many times this season due to Liverpool's struggles with strikers being out injured or out of form, and that hasn't suited Sterling who is an out-and-out winger. Any Liverpool fan who has hit out at Sterling's performances this year must also acknowledge that in many games he has been their biggest attacking threat. There's no denying that.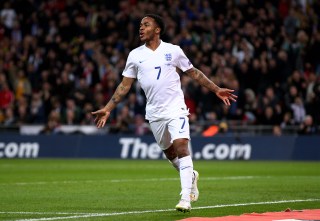 One of the biggest issues here are those claiming that Sterling "has done nothing in the game" yet and is still developing. He is still developing, that's right. But he seems to have outgrown Liverpool and has gone as far as he can under the tutelage of Rodgers. Sterling's talent and raw athleticism mean he has the potential to be one of the greatest wingers England has ever produced but when you look at similar players over the years, the likes of Theo Walcott, Aaron Lennon and Alex Oxlade-Chamberlain have yet to fulfill the potential they showed as teenagers. Sterling may feel he needs to move onto the next level now to avoid his development being impacted.
Sterling is wanted by many of Liverpool's PL rivals and therein lies another issue. With Steven Gerrard moving on, Luis Suarez going to Barcelona last summer and the likes of Javier Mascherano and Fernando Torres leaving in the past, it seems as though every time Liverpool gets a world-class talent, they fail to hold on to them. Expect for Gerrard, of course. But what Liverpool won't want to do is strengthen their direct rivals for a top four place by letting Sterling leave. They also won't want to be seen as a stepping stone for players to make their name in the PL and then move on to a bigger team who can pay higher wages, offer UCL action and more chances of winning trophies.
That's the situation Liverpool is in. Do they keep hold of a player who no longer wants to be around or do they sell him to the highest bidder, even if that is a direct rival?
Sterling is contracted to Liverpool for another two years but if he wants to leave and bigger clubs come calling, he is entitled to express his opinion. The ball is now in Liverpool's court, as they must decide how to handle this situation which has become a saga over the past six months.
Simply put: Liverpool looks close to losing yet another world class talent this summer as the pressure begins to build on Rodgers. Whether Sterling stays or goes, he is entitled to express his opinion and if he wants to win trophies and this isn't all about money, then what is the issue here? He has every right to tell the club and the outside world how he feels and then its up to Rodgers to make a decision on what to do next.