Each week at ProSoccerTalk we will hear from from U.S. national team and Stoke City defender Geoff Cameron, who is now a special correspondent for NBCSports.com.
[ RELATED: Cameron's latest on PST ]
The proud Bostonian tells us what life is like behind-the-scenes in England's top-flight with Q&A's, first-person pieces and more. This week Geoff gives us a sneaky look behind-the-scenes at Stoke's training ground as they prepare for their final game of the season against Liverpool on Sunday. 
First up, the lads and Geoff are busy at work in the weight room. Warning: as this is a place of work, some rap music in the background is pumping the guys up but it may offend you. Geoff would apologize, but he's currently in the zone…
After the initial weight session, here's a quick look at Cameron's wheels hung up by the locker room. Pretty sweet with the flag of the United States on the heel, right?
Next up, Geoff is back hard at work with some extreme push ups.
Another grey day in England. This is Geoff's life. Cloudy weather every day and always a chance of rain. Lovely.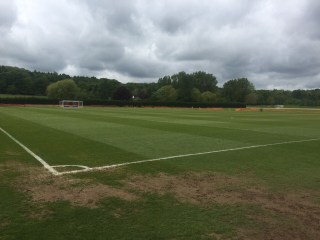 After finishing off the session in the gym, it's time to head up to the canteen for lunch with the lads. Geoff also gets in early each morning to the training ground so he can have breakfast, get treatment and prepare for the session.
Check out his Asmir Begovic at the end of the video. He doesn't know what is going on.
Thanks to Geoff for giving us a quick look behind-the-scenes at Stoke. Make sure to give him a follow on Twitter to get plenty more from a USMNT star playing in the Premier League. Just hit the follow button, below.