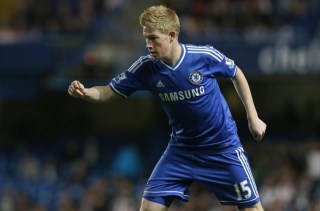 Borussia Dortmund could've had Kevin De Bruyne in the fold if they had just forced Robert Lewandowski to choose Stamford Bridge of the Allianz Arena.
[ MORE: JPW's Premier League picks ]
That's the claim from Borussia Dortmund CEO Hans-Joachim Watzke, who says his former star striker's choice of Bayern Munich left Chelsea with a bad taste in its mouth.
Lewandowski decided to join Bayern Munich on a free transfer and when Dortmund tried to sign De Bruyne, Chelsea made matters difficult.

"It [signing De Bruyne] would have fitted well into the planning," he told Bild.

"But the conditions could not be agreed. Chelsea were unwilling to let him go because they were angry that Robert Lewandowski had not gone to Chelsea."
Of course, De Bruyne went to Wolfsburg in January. It would've been mighty interesting to see if landing De Bruyne would've been the tonic the club needed earlier this season. Perhaps Marco Reus and De Bruyne are too similar, or maybe they would've been a dynamic duo that makes the jobs of Ilkay Gundogan and company a lot easier.
And Chelsea may not have purchased Diego Costa if that was the case. Would the Blues still be champions with Lewandowski over Costa? Or would they have bought both and run rampant over Europe?