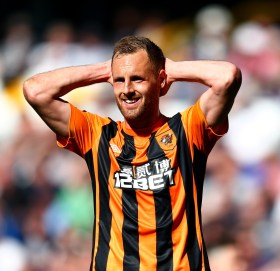 David Meyler and the Hull City Tigers need to beat Manchester United on Sunday, and hope Newcastle United falls to West Ham United in order to keep their status as members of the Premier League.
[ MORE: JPW's Premier League picks ]
While John Carver is still shocked Newcastle could go down, Meyler's take is one of acceptance and perseverance. The 25-year-old Republic of Ireland midfielder said the Tigers aren't worried about the weight of the occasion getting to them.
"We have a saying in Ireland that pressure is for tyres. This is a game of football and we have to look forward to it. We know we need to win it and we know we're more than capable of doing that.

"Away from home we've taken points from the big teams, and we've beaten Everton and Liverpool at home. We were 2-0 up after 15 minutes against Manchester United at home last season, so we know what we can do and what we're capable of. We also believe that we can do it.

"We've worked towards this game all week and we're all looking forward to it. "
It would be a double bonus if Hull could survive by bouncing Newcastle United to the Championship. The former Sunderland player was infamously head butted by then-Magpies manager Alan Pardew last season.