The final week of the Premier League season has arrived and it is time to throw out some predictions for the 10 PL matches taking place on Sunday at 10 a.m. ET.
[ Championship Sunday: 10 matches, 10 channels–find yours here ]
Quick reminder: you can watch every single game across 10 channels on our network, click the link above for more info, with relegation places and European qualification still to be sorted out as we finish off the season in style.
[ STREAM: Every PL game live online ]
I've consulted my crystal ball and here's how we see things panning out…
BASICALLY, FREE MONEY
Arsenal 3-1 West Bromwich Albion – (Sunday, 10 a.m. ET, Bravo)
The Gunners will finish in third and will be eager to finish the season in style after losing to Swansea and drawing with Sunderland in their final two home games. West Brom have beaten Chelsea and Man United recently so may be a little over-confident.
Chelsea 2-0 Sunderland – (Sunday, 10 a.m. ET, NBCSN)
Jose Mourinho's side will lift the trophy on Sunday and they will want to cap off a glorious season with another win. Sunderland couldn't care less about this one, as they sealed survival on Wednesday. Home win.
Crystal Palace 2-0 Swansea City – (Sunday, 10 a.m. ET, E!)
Palace are another team finishing the season strong and they battered Liverpool in the second half of a famous win at Anfield last week. Swansea know they have secured eighth place but could get hit on the counter.
Aston Villa 3-1 Burnley – (Sunday, 11 a.m. ET, Esquire)
Tim Sherwood's side will want to put their 6-1 humbling at Southampton last weekend right and ahead of the FA Cup final next week, plenty of players will be playing for their chance to start at Wembley. Big Christian Benteke will do the damage as Burnley wave goodbye to the PL.
DON'T TOUCH THIS…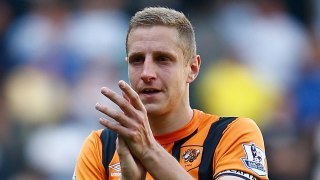 Hull City 1-1 Manchester United – (Sunday, 10 a.m. ET, NBC)
Hull need a win to stay up but they'll only get a point which will see them relegated. The Tigers are likely to come flying out of the traps against a United side with nothing to play for. A draw would be an agonizing way for Hull to go down.
Stoke City 1-2 Liverpool – (Sunday, 10 a.m. ET, SYFY)
Will Steven Gerrard have one more moment of magic in a Liverpool shirt? In his final game for the Reds, expect Liverpool to win narrowly as Stoke have already secured their best PL finish of ninth.
Manchester City 1-1 Southampton – (Sunday, 10 a.m. ET, MSNBC)
If Saints grab a win or draw and either Liverpool or Spurs slip up, they could finish in the top six and qualify automatically for the Europa League. City have  second-place secured but are finishing the season on a high. Should be an entertaining match.
Everton 2-1 Tottenham Hotspur  – (Sunday, 10 a.m. ET, CNBC)
The Toffees know that a win at Goodison Park will likely secure a top 10 spot, while Spurs' form in recent week suggests they aren't too bothered about finishing in the top six and getting Europa League qualification.
"SO YOU'RE TELLING ME THERE'S A CHANCE…"
Newcastle United 1-2 West Ham United – (Sunday, 10 a.m. ET, USA)
Sam Allardyce would love nothing more than to head back to Newcastle and send down the team who gave him a rough time as manager in the past. The Hammers need a win to finish in the top 10, while Newcastle must win to guarantee their safety. Expect a nervous afternoon at St James' Park.
Leicester City 1-2 Queens Park Rangers – (Sunday, 10 a.m. ET, Oxygen)
Leicester will celebrate safety in front of their own fans on the final day, while QPR are heading down but Chris Ramsey is already building towards next season in England's second-tier. Could go either way, but maybe the Foxes will be a little distracted. Away win.