All week at ProSoccerTalk we are reviewing the dramatic 2014-15 Premier League season. From dishing out awards to looking back at the highs and lows in the 380 games as 20 teams battled it out, we'll have every angle covered.
[ MORE: PST's Premier League season review ]
For the full archive of our review content, just hit the link above. Now, it's time to take a look back at the managers that helped make the Premier League season a memorable one.
One of the most intriguing facets of the Premier League is its managers. Sure, the play on the field is perhaps second to none in the world, but the Premier League's managers often times take on a storyline of their own and provide ample entertainment and fodder for debate. Here are a few of the PL's managers that made 2014-15 just that much more interesting.
Jose Mourinho, the champion
Manipulator. Tactician. Twister of words. Protector of men. So many titles could be used to describe Chelsea's enigmatic boss, but the one he will prefer the most is that of "champion." As in, 2014-15 Premier League champion.
Mourinho used his every last one of his old tricks — diverting attention/blame from his players upon their rare slip-ups; "parking the bus" defensively; and controlling the narrative surrounding his team all season long — en route to returning the Blues back to Premier League glory for the first time since the 2009-10 season.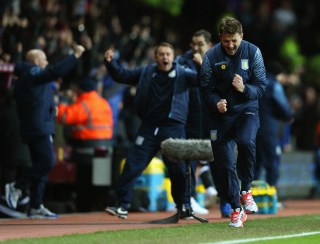 Tim Sherwood, the prodigal son, returns
His win percentage is the thing of legends at Tottenham Hotspur, and yet the 46-year-old was fired by Tottenham Hotspur following the 2013-14 season. On Valentine's Day 2015, Sherwood was hired as the new Aston Villa boss and tasked with keeping the Birmingham club, which sat in 18th place at the time of his appointment, in the Premier League.
Stunning results followed. Horrid results followed. A run to this weekend's FA Cup final followed. More of Sherwood's proud, boastful, king-of-the-world personality ensued. In the end, Villa finished 17th, three points clear of the drop. Now Sherwood will be given his first summer transfer window in which to buy his own players and build his own team. 2015-16 prediction: Villa either win the league next season, or Sherwood will be out of a job by the New Year. Either way, he'll continue to make the club must-see TV on a weekly basis.
[ MORE: 10 biggest storylines of the Premier League season that was ]
Nigel Pearson, the nuclear reactor (and survivor)
Is there a bigger jerk in the Premier League? The answer to that question is very likely "not a chance." (Remember this?) Now, with that established, Pearson did a masterful job of keeping PL new boys Leicester City in England's top flight for another season, thanks to the Foxes' unlikely rise from last place on Christmas Day, to safety from relegation (a feat only ever achieved once before in the Premier League era) with one game left.
Pearson's players obviously believe in him, otherwise they'd have folded when the going got tough. His shock-and-awe style with regards to handling the media can definitely be questioned and criticized, but one thing is for certain: players love managers that stick up for them and deflect the attention away from them in the bad times, and give them all the credit in the good times.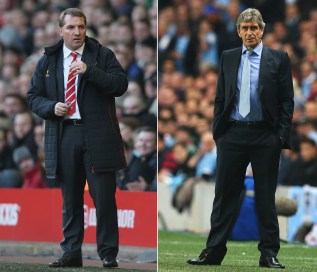 Brendan Rodgers and Manuel Pellegrini, dangling in the wind
Will they stay or will they go before August arrives? Are the Liverpool and Manchester City boards, respectively, even right to be expecting title challenges, given the obvious, gaping holes in their squads? How many of each manager's best players will leave this summer, and how many new recruits will arrive?
Short answer: No one knows, but it's likely to be an absolute circus either way.
Even if one or both stay at their respective through the summer, the questions will return at the first sign of trouble next season (i.e. the first loss). There's a reason managers are paid handsomely as they are, because you'd have to be mad to take up the line of work for anything short of a king's ransom.
[ MORE: How the Americans in the Premier League fared in 2014-15 ]
Alan Pardew, the Big Pardiola
We've finally reach everyone's favorite managerial character of the 2014-15 Premier League season: Alan Pardew, formerly of Newcastle United and now the head genius in charge at Crystal Palace.
Newcastle fans seemed to genuinely hate the man, and wanted him out of their club, like, yesterday. In January, the Geordie nation got their wish, and came oh so close to realizing their greatest nightmare: Premier League relegation. Meanwhile, Pardew's new club, Crystal Palace (then in 18th place), quickly ascended the league table and finished the season in 10th. Palace passed Newcastle on March 21, two months and 19 days after Pardew changed jobs.
John Carver, the lover of club
Poor John Carver, right? After Pardew skipped town, Carver was named interim manager by an owner, Mike Ashely, who on the whole refuses to invest funds back into the team despite selling a number of the club's best players in recent years, and Carver struggled, in part, due to this.
I mean, he struggled badly. Just three wins in his 16 games in charge (including eight successive losses from March to May) dragged Newcastle United right down into the relegation battle. Carver loves the club dearly (he was born in Newcastle, is a product of the club's youth academy and has said "yes" to everything they've ever asked of him), of which we were reminded to begin any discussion about the future of Newcastle United and Carver alike. In the end, his love for the club was just enough to keep them up, but will it keep him in the manager's job next season? Probably not.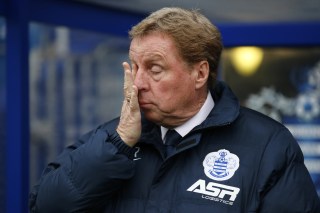 Harry Redknapp, the ship jumper
Oh, you thought we'd forgotten about Harry? Of course we didn't. The ol' wheeler-dealer gets all his full, deserved share of credit for Queens Park Rangers being relegated from the Premier League this season.
Upon his departure for "health reasons" (he said he needed a knee operation), QPR sat second from bottom in the league with 19 points from 23 games. Not great! In the weeks and months following his resignation, Redknapp continuously appeared in the media, saying things like, "I could have kept QPR up," "QPR fans deserves better," and my personal favorite, "I wasn't given enough money to build the team," despite out-spending the entire Championship last season and tossing another $50 million worth of players on top of that this past summer.
It shouldn't be long until he's recklessly angling for his next job — Bournemouth? Watford? Norwich City? Sunderland? Newcastle United? Chelsea? Who knows! — and spending them into crippling debt once hired, before up and leaving again at the first sign of trouble. It's the Redknapp way.