Week 12 of the 2015 Major League Soccer season is in the books, and just as in Week 11, we were once again reminded that nobody knows anything about MLS. The only thing we know about MLS is that we know nothing about MLS.
That upside-down nature of results is reflected in Andy Edwards' Week 12 MLS Team of the Week.
[ FOLLOW: All of PST's Week 10 MLS coverage | Standings | Stats | Schedule ]
Three Toronto FC players? Two from the Montreal Impact? One from each of the Philadelphia Union and Colorado Rapids? What is this world?
TFC and the Impact both snatched big home victories over the weekend, thanks to strong performances from the midfield (TFC) and rearguard (Montreal). The Rapids and Union also won in Week 12. In summation, four of the league's bottom-five teams won over the weekend.
Thoughts? Questions? Agreements? Disagreements? (Of course not.) Leave them in the comments section, as always. I'm not afraid to defend my picks.
[ MORE: 2015 MLS Team of the Week archive ]
MLS Team of the Week — Week 12
Goalkeeper: Evan Bush (Montreal Impact)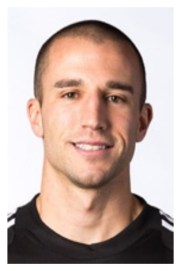 Defenders: Jamison Olave (Real Salt Lake), Omar Gonzalez (LA Galaxy), Fabinho (Philadelphia Union), Lauren Ciman (Montreal Impact)
Midfielders: Benoit Cheyrou (Toronto FC), Lucas Pittinari (Colorado Rapids), Michael Bradley (Toronto FC), Luke Mulholland (Real Salt Lake)
Forwards: Kei Kamara (Columbus Crew SC), Sebastian Giovinco (Toronto FC)