All week at ProSoccerTalk we are reviewing the dramatic 2014-15 Premier League season. From dishing out awards to looking back at the highs and lows in the 380 games as 20 teams battled it out, we'll have every angle covered.
[ FULL COVERAGE: Premier League season review ]
For the full archive of our review content, just hit the link above. Now, it's time to take a look back at — in no particular order — 10 storylines that helped make the Premier League season a memorable one.
10. Pardiola — Newcastle United started very poorly this season, and the Magpies' fan base was livid with high-talking manager Alan Pardew before a five-game win streak pushed the club from the bottom to the top half.
Pardew's departure for Crystal Palace was met with good humor by the Toon Army. That changed to misery when Pardew led the Eagles from the bottom to a 10th place finish, while Newcastle absolutely fell apart over a string of miserable performances under former Toronto FC boss John Carver.
9. Saintly surprises — Perhaps its fitting that some Saints and a Monk featured in 'miraculous' seasons for Southampton and Swansea City. Though they faded down the stretch, Southampton was expected to fall apart after selling stars Adam Lallana, Dejan Lovren, Rickie Lambert and Luke Shaw. Instead, they contended for the Top Five all year under new boss Ronald Koeman (left).
And how about Swans under Garry Monk? The former player helmed the club to survival last season and then spearheaded one of the most fun sides in the league this season. Swansea finished eighth despite selling Wilfried Bony in January, as Monk coaxed career years out of Ki Sung-yeung, Jonjo Shelvey and Ashley Williams amongst others.
8. Catch for us the Foxes — Nigel Pearson was as good as fired, you know? And wasn't Leicester City as good as in the Championship? Nope. Left for the managerial scrapheap after a "choking" incident with Crystal Palace's James McArthur and a long string of poor results, Pearson orchestrated a big winning streak that allowed the Foxes to clinch safety before Championship Sunday.
7. Style vs. Title — As Chelsea's forward corps dealt with injuries, the soccer world turned to debate whether their title should count, what with Arsenal flying up-and-down the pitch but not within sight of the first-place Blues. It was a horrible debate that pretended Chelsea was constantly hanging back in Tony Pulis-like banks of four, across the 18 and begging for a single mercy point.
6. Quitting QPR — Harry Redknapp and Queens Park Rangers' return to the Premier League lasted less than a season, as the Loftus Road club saw its brash manager skip town at the end of the January transfer window on account of wonky knees. QPR could not rebound to safety, as Redknapp left another club in the lurch.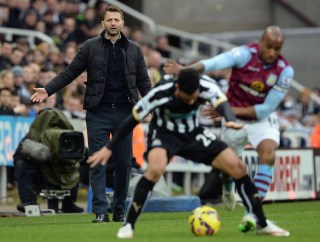 5. Timmy Tactics — Tim Sherwood somehow got the Spurs job last season, then caused a fuss when he battered the club for not giving him a long-term deal. His name was bandied about for seemingly every potential opening in England, before landing at Aston Villa where he… actually got the club humming to safety. His longterm prospects are still a major question, but "Timmy Tactics" can put the first-half of 2015 in the win column, and he can still guide his club to an FA Cup title.
4. Struggles in (and for) Europe — Liverpool failed to make the Round of 16, while its three UEFA Champions League peers were gone by the end of the first knockout round.
The Reds were bounced from their group by Real Madrid and Basel, and nearly finished bottom of the group. Arsenal went down big to Monaco before "almost" climbing back. Manchester City fell to Barcelona over a yawn-worthy two legs of effort, while Chelsea fell to PSG on away goals.
Certainly more is expected in 2015 with Chelsea, Arsenal, Manchester City and Manchester United.
As for Europa, all English contenders fell in the competition, and there was question as to whether anyone wanted in the competition moving forward. Down the stretch, and be honest, did you wonder whether Southampton and Tottenham were trying to qualify for the Europa League, or avoid the tournament altogether?
3. Don't call it a comeback — Louis van Gaal is getting a lot of love for Manchester United's resurgence to the UEFA Champions League after buying Angel Di Maria, Ander Herrera, Luke Shaw and others, but is his six points better finish that much more impressive than hard-luck David Moyes' 2013-14 campaign? It's worth discussing, as replacing Sir Alex Ferguson has now seen two seasons as the lesser-finishing side in Manchester.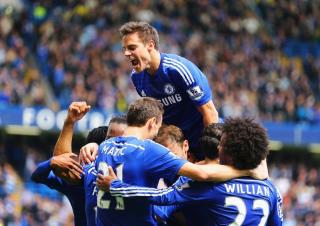 2. Wire-to-wire — While some were debating their "boring" nature, Jose Mourinho was masterminding Chelsea's unquestioned dominance. The Blues went from start to finish as the Premier League's top club, with debatably the best forward (Diego Costa), attacker (Eden Hazard), destroyer (Nemanja Matic), back (John Terry) and keeper (Thibaut Courtois). You don't have to like those characterizations, or agree, but in terms of being in the debate, there is no doubt. Special One? Indeed.
1. Stevie G — Here's another thing you don't have to like, but there's no doubt Steve Gerrard was a bit part of the season's headlines from opening day (Could he come back from "The Slip"?) to mid-season European flopping (Are they better without him in the lineup?) and finally his exhaustively-covered departure from Anfield (Did Ryan Giggs or Frank Lampard get this sort of service last year?).
Still, Liverpool's hero left Anfield with class, and will now begin his adventure in the United States.
Bonus storylines: Harry Kane; Frank Lampard's no-celebration vs. Chelsea; the Blues' swarming referees like bees; Burnley nearly punches above its weight; Sunderland survives thanks to Advocaat; West Ham surges forward, then falls flat; Jonas Gutierrez returns from cancer.