All week at ProSoccerTalk we are reviewing the dramatic 2014-15 Premier League season. From dishing out awards to looking back at the highs and lows in the 380 games as 20 teams battled it out, we'll have every angle covered.
[ ARCHIVE: Premier League season review ]
For the full archive of our review content, just hit the link above. Now, let's see who excelled at putting the ball in the net as we break down the top forwards in the Premier League.
Goals, goals, goals. Everyone wants to see goals. So where did they come from? There are some unlikely sources on this list, including players from relegation candidates that were vital to their team's minimal success this year. There are still others who were more prolific at the top of the table.
10. Leonardo Ulloa, Leicester City
The 28-year-old Argentinian played a massive role in Leciester City's successful first campaign back in the Premier League, and thoroughly deserves a spot on this list. He exploded out of the gates to open the season, scoring five goals in Leicester's first five matches of the year. Then things began to go quiet for the Argentinian, and for the Foxes as well. However, down the stretch, he came back to life and Leicester saved their Premier League status. Overall this season, Leicester bagged 17 points in games Ulloa scored a goal, and 24 when he didn't; that's 1.89 points per game when he scores a goal, and 0.82 points when he doesn't. That, along with his 11 goals on the season, earns him a spot on our top 10 list.
[ MORE: Top 10 goalkeepers | Defenders | Midfielders ]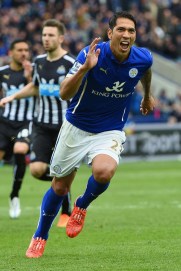 9. Graziano Pelle, Southampton
Another striker buoyed by his furious start to the year, Pelle was still massively important to the successful Southampton year. He bagged 12 goals on the season, including half that tally in the first eight games of the year. He weathered a 14-match scoreless streak, but still managed to end the season on a somewhat strong note. In the nine matches that Pelle scored in, Southampton won seven, drew one, and lost one. That should tell you how important he was to the Saints finishing the year in seventh.
8. Wilfried Bony, Swansea City/Manchester City
Bony was absolutely tearing the Premier League apart, and earned a transfer to Manchester City. Unfortunately, that stuck him firmly behind the league's eventual top scorer, and it planted him on the bench for much of the second half. Still, his scoring with Swansea can't be forgotten. He snagged nine goals in 20 games before his move to Manchester, and he even looked to be the best player on the Ivory Coast national team as they charged to the African Cup of Nations title. That momentum was halted after moving to the Etihad, as he logged just 302 minutes with City, but Bony still earns his place here as one of the more deadly strikers this season.
7. Christian Benteke, Aston Villa
It's hard to believe an Aston Villa striker makes it here. The same Aston Villa that managed a 660-minute scoreless streak this season. The same Aston Villa that beat relegation by three points thanks to the second-lowest goalscoring tally in the Premier League. Well, he's here. Benteke all season long looked like the only threat Villa had, and when the team wasn't scoring it was largely because they couldn't feed the big Belgian the ball. He truly came to life under Tim Sherwood, scoring 11 goals in the 13 games his new manager would take charge of, helping Villa to cling to Premier League safety.
6.  Charlie Austin, QPR
It cannot be understated how absolutely horrific QPR's season would have turned out had Charlie Austin not been a part of it. Despite finishing bottom of the table, Rangers' goal output was higher than six of the seven teams in front of them, and Austin is a large reason why. Of the eight wins for QPR on the season, Austin scored in six of them. Rated the fifth-best striker by Squawka's performance metrics, Austin was undoubtedly one of the best strikers in the Premier League this season and came just two wins shy of nearly singlehandedly keeping QPR in the English top flight.
[ MORE: Top 10 newcomers to the Premier League | The best (and worst) transfers ]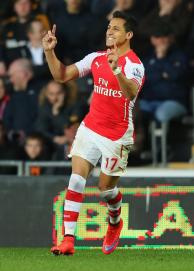 5. Alexis Sanchez, Arsenal
New to the Premier League, Alexis Sanchez fit in perfectly with Arsenal's free-flowing system, and he adapted to his new environment almost seamlessly. Deployed in the striker role at times and on the wing at others, Sanchez outscored Arsenal's main striker Olivier Giroud in league play and managed to almost immediately become one of the most creative players on a team oozing with creativity. If it weren't for Santi Cazorla's standout season, Sanchez would have been a shoo-in for Player of the Season at the Emirates. In fact, the team relied on him so heavily that it wore on him as the season continued, and he began to show signs of serious fatigue down the stretch as Arsenal's slim chances at a title challenge faded into a third-place finish.
4. Wayne Rooney, Manchester United
Typically left for a midfield list, Wayne Rooney this season proved Louis van Gaal a genius when he played Rooney up front during a striker crisis. Rooney's play up front sparked debate about his best position, but it's hard to doubt his production. His deployment at the top of the Manchester United attack resulted in a crucial seven-match win streak towards the end of the season that helped secure a return to a Champions League table position. Rooney scored four times during that span, including two game-winning goals. In addition, of the 10 Premier League games Rooney scored in this year, Manchester United won nine of them.
[ MORE: Premier League grades: How did each team fare this year? ]
3. Harry Kane, Tottenham Hotspur
The Hurri-Kane took the Premier League by storm this season, and at just 21 years of age has the entire country of England buzzing about what might become. He didn't even start from the beginning of the year. Kane came just five goals short of topping the Premier League goals table despite not earning serious league playing time until he forced manager Mauricio Pochettino's hand by eating the Europa League alive through October. He scored a 90th-minute winner against Aston Villa as a substitute on November 2, and didn't look back. Kane started every single Premier League game after, and ended the season with 21 on the board. The youngster is still occasionally prone to disappearing from matches he doesn't receive the service he deserves, but in a league that's all about production, Kane's performances have provided hope for a league otherwise starving for true young talent that lives up to the hype.
2. Diego Costa, Chelsea
Costa may not have scored as many goals as Kane, but in a title-winning season where Costa battled hamstring injuries all year, the Spanish international gets the nod. Costa missed seven matches this year through injury and four others via suspension, but still managed to prove dominant up front. Fresh over from Atletico Madrid, the 26-year-old scored in six of Chelsea's first seven matches of the season, and he scored in 13 of his first 19 league appearances. He found himself on the sidelines more often than not after that point, but Chelsea had already found itself well on its way to the league title by then. Costa still struggles on the international stage, but his performances in league play this year are unquestionably some of the best the Premier League saw all season.
[ MORE: Premier League Playback: Looking back at a memorable 2014-15 season ]
1. Sergio Aguero, Manchester City
Sergio Aguero continues to produce, and produce, and produce. There's little needed here other than he scored 26 goals on the Premier League season, plus six more in seven Champions League matches. No matter who the opponent, Aguero always looks likely to score. Through his four full seasons in the Premier League, Aguero has an absolutely stunning 110 minutes per goal total, meaning he's one of the most prolific strikers in Premier League history. To put that into perspective, the highest goalscorer in Premier League history, Alan Shearer, scored a goal every 147 minutes on average. Harry Kane's mind-blowing season produced a league goal every 123 minutes – even counting all competitions to account for Kane's incredible Europa League campaign, he still bagged just a goal every 119 minutes. Sergio Aguero is undoubtedly the best striker in the Premier League right now, and one of the best it's ever seen.