All week at ProSoccerTalk we are reviewing the dramatic 2014-15 Premier League season. From dishing out awards to looking back at the highs and lows in the 380 games as 20 teams battled it out, we'll have every angle covered.
[ ARCHIVE: Premier League season review ]
For the full archive of our review content, just hit the link above. Now, let's take a walk through the six yard box with the Premier League's 10 best 'keepers for 2014-15.
Well, boy, do I look silly? As we record these 10 players, it's worth admitting that only three of my "Top Five" heading into the season put forth performances deemed worthy of the Top Ten. And it could've been merely two returnees had I not gotten a little sentimental about a certain headgear-wearing drummer.
Tim Howard suffered through his worst season in ages, and Wojciech Szczesny lost his job and apparently likes to smoke in the post game shower. As for those on the list…
10. Petr Cech, Chelsea
Bear with me here. The veteran, who is one of the finest keepers in club history, lost his job to one of the best young goalkeepers in the world in Thibaut Courtois. How did Cech respond? By still posting the third-most effective Squawka score in the Premier League for goalkeepers.
If you were to count all competitions, he went 13-1-1 (Cech was in the net for the 4-2 FA Cup loss to Bradford) despite not getting regular duty. He was the League Cup winning goalie and conducted himself with class despite an almost-absurd scenario. No wonder Arsenal want him so badly.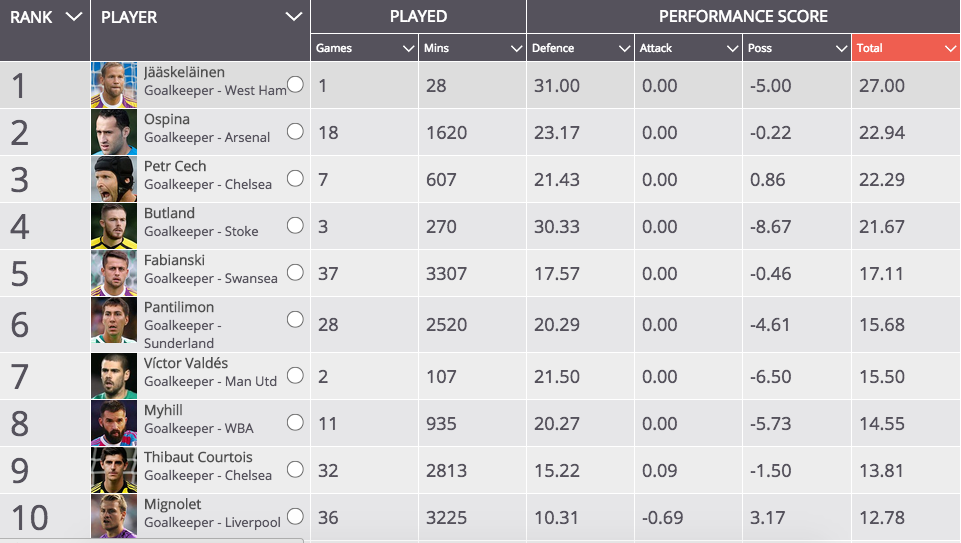 9. Simon Mignolet, Liverpool
Scapegoated during last year's defense-free season, Mignolet was pretty good this season in a rebound campaign.
8. Joe Hart, Manchester City
My resounding image of Man City's season will be from their UEFA Champions League ouster, when Hart did everything but actually break the legs of Lionel Messi and Barcelona. I'd say he was a lifesaver at times, but…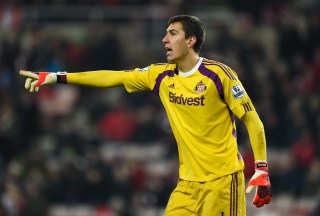 7. Costel Pantilimon, Sunderland
…Hart's backup from last season actually outshone the City man. The gigantic Pantilimon was, beyond a shadow of a doubt, the standout player of the Black Cats' last-gasp Premier League survival.
6. David Ospina, Arsenal
Szczesny lost his job to the Colombian keeper, who followed up a good World Cup by translating his game to the Premier League. Bring on Pee Wee Herman and sing it with us, "da-da-da-da-da-da-da… Ospina!"
5. Asmir Begovic, Stoke City
Quietly possesses the ball as any keeper in the league, and was a big part of the Potters' success under Mark Hughes despite some injuries at the back.
4. Hugo Lloris, Tottenham Hotspur
It's hard to believe there were three keepers better than Spurs' captain, and the White Hart Lane will be fortunate if he sticks around next season.
3. Lukasz Fabianski, Swansea City
The second player on our list to thrive from new scenery, Fabianski was the conductor behind a strong Swans defense.
2. Thibaut Courtois, Chelsea
He's 23 years old, and he's this good. Allowed just two goals in three road draws at Manchester City, Manchester United and Arsenal.
1. David De Gea, Manchester United
It's almost unnecessary to say more about the Spaniard, who is expected to draw a huge offer from Real Madrid after really rising to the top of the PL keeper heap.
Just missed: Fraser Forster, Southampton; Tom Heaton, Burnley