All week at ProSoccerTalk we are reviewing the dramatic 2014-15 Premier League season. From dishing out awards to looking back at the highs and lows in the 380 games as 20 teams battled it out, we'll have every angle covered.
[ ARCHIVE: Premier League season review ]
For the full archive of our review content, just hit the link above. Now, let's take a look at the ten men who excelled in the midfield.
Ah, the midfielders. No one dictates the pace and direction of a game quite like the men (often times) in the middle third of the field. Oh, and all those goals that fantastic goals that you love watching over and over again, there's almost always a midfielder involved in the build-up, making beauty possible.
The 10 best midfielders from the 2014-15 Premier League season…
10. Yannick Bolasie, Crystal Palace
Bolasie was a bit of a second-half revelation. Call it the "Pardew effect," if you will, but the DR Congo winger provided a real spark for the Eagles once Alan Pardew took over as manager. 4 goals and 6 assists doesn't sound like an incredible season, until you realize that nearly all of them came between January and May.
[ MORE: Top 10 goalkeepers | Defenders | Forwards ]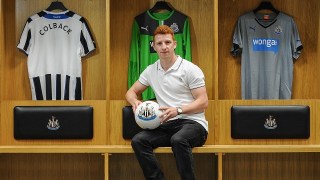 9. Jack Colback, Newcastle United
In a season where many of the Newcastle players looked completely disinterested in fighting for the club, Colback, a Sunderland youth academy product, was perhaps the most (only?) consistent Magpies performer in 2014-15. His 4 goals and 6 assists don't even begin to tell the story of Colback, whose 91 tackles won rank 4th in the Premier League and 65 interceptions come in as 5th-most.
8. James McArthur, Crystal Palace
Crystal Palace's midfield workhorse (88 tackles, 7th-most in the PL, and 66 interceptions, 4th-most) and foundation of possession (79 percent completion percentage, with nearly one key pass per game). Poached from Wigan for barley $10 million last summer, McArthur is one of the Premier League's best pieces of business.
7. Gylfi Sigurdsson, Swansea City
Sigurdsson amassed 7 goals in 10 assists in his first season as a full-time Swan, which are tied-8th and 2nd, respectively, in the Premier League. That's a 37-percent goal contribution rate, which also ranks in the top-10 of the league, easily.
[ MORE: Top 10 newcomers to the Premier League | The best (and worst) transfers ]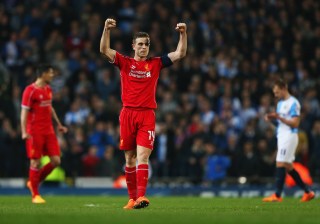 6. Jordan Henderson, Liverpool
What an up-and-down season it was for Henderson. The 24-year-old struggled mightily as the campaign began, and by the time it ended he had been chosen the heir apparent to Steven Gerrard and given a brand new $150,000-per-week contract to stay at Liverpool until 2020. 6 goals and 9 assists from what is generally a deeper-lying midfield player is nothing to scoff at.
5. Nemanja Matic, Chelsea
With the embarrassing wealth of attacking talent ahead of him in the midfield (we'll get to that in a moment), Matic was the midfield beast that allowed every one of Chelsea's creative-minded midfielders to do their thing. Unsurprisingly, Matic ranks 1st in tackles won (122) and clearances (118); 2nd in interceptions (72); and 6th in passes blocked (44).
[ MORE: Premier League grades: How did each team fare this year? ]
4. Santi Cazorla, Arsenal
The 2013-14 season wasn't particularly kind to Cazorla, who for stretches looked like his best years might be behind him. Then came the 2014-15 season. 7 goals and 11 assists for the diminutive Spaniard were sorely needed when Aaron Ramsey's production regressed from last season's stellar performances. At times Cazorla played in a deep midfield two with Ramsey or Francis Coquelin; at times he played underneath the center forward; at times he was shuttled out onto the wing, where he still had a great impact.
3. David Silva, Manchester City
Much like Cazorla, folks seemed to have given up on Silva following a pedestrian 2013-14 season (by his standards). In 2014-15, Silva willed Man City to results at times, leading the Citizens to a second-place finish, frequently papering over the completely disinterested showings of Yaya Toure. 12 goals and 7 assists for Silva this year, and with slightly better finishing from City's center forwards, it could have easily been 12 and 12, or 12 and 15.
2. Cesc Fabregas, Chelsea
Chelsea had all but won the league by the time March rolled around. Fabregas's early-season performances, in which he contributed nearly all of his league-leading 18 assists, were a huge reason why the Blues held such a commanding lead and won the title so comfortably. It's still a bit weird seeing Fabregas in Chelsea blue, but seeing the brilliant Spaniard win Premier League titles is a sight we could all get used to seeing.
[ MORE: Premier League Playback: Looking back at a memorable 2014-15 season ]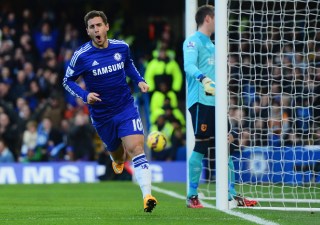 1. Eden Hazard, Chelsea
By most (all?) organizations, the Premier League Player of the Year. By most metrics, it wasn't even close. 14 goals and 9 assists this season launched Hazard's name into the "who's the third-best player in the world" conversation. The additions of Fabregas and Diego Costa could have cut into Hazard's production and numbers, but the Belgian simply welcomed his new help in the attacking third and made not only himself, but everyone around him, a better player.