All week at ProSoccerTalk we are reviewing the dramatic 2014-15 Premier League season. From dishing out awards to looking back at the highs and lows in the 380 games as 20 teams battled it out, we'll have every angle covered.
[ ARCHIVE: All of PST's PL season reviews ]
For the full archive of our review content, just hit the link above. Now, we crown our Player of the Season.
Here's what our writers had to say about their selections…
Joe Prince-Wright selects… Eden Hazard
The Belgian winger has lit up the PL with his writhing magic. Defenders don't want to get to tight to him, but then allow him too much space to hurt them. Jose Mourinho is right to build his attack around Hazard and still just 24, expect plenty more from Chelsea's No. 10 in the coming years. Majestic season as his creativity merged perfectly with the Blues' solid defense.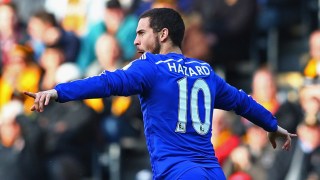 Nick Mendola selects… Eden Hazard
He's a wizard, a master manipulator of the ball, defenders and seemingly gravity. There is no young player in the world I'd rather have on my team for the next decade, and he's said he'd like to stay at Stamford Bridge for such a period of time. Bonus for Blues.
Kyle Bonn selects… Eden Hazard
Sergio Aguero's minutes per goal once again makes this no shoo-in for Hazard, but watching the Belgian is like watching an artist piece together a masterpiece on the field. He's beautiful to watch.
Andy Edwards selects… Eden Hazard
Best player (barely) on the runaway best team. This year Hazard entered the "who's the third-best player in the world" discussion.
Kyle Lynch selects… Eden Hazard
Not only the best player in the Premier League, Eden Hazard stated his claim as one of the best players in the world this season. With 14 goals and nine assists, the shifty Belgian was the most dangerous man on the pitch for Chelsea game-in and game-out. Hazard was the most fouled player in the league, which shows how much trouble defenders had containing him.
Duncan Day selects… John Terry
Giving respect to quality defending, John Terry spearheaded the firmest back line in the Premier League and did so nearing the 35 years of age. Impressive.