As Sepp Blatter referenced his own good mood, the future being "offshore" and even a film about a heist, there had to be plenty of soccer fans around the world saturated with dark thoughts.
The fans were ready to don't do it, Nick make way for Prince Ali Bin Al-Hussein, but instead left shaking their heads as the Jordanian prince could only muster 73 votes to Blatter's 133 before stepping away from a second vote.
[ MORE: Al-Hussein withdraws, Blatter wins again ]
And what does it say that those 73 votes were considered a surprisingly high amount? What can we possibly say knowing that even with Blatter at the top of a pyramid which has seen many of its base blocks arrested for fraud in the last week alone, he cruised to a fifth-term of presidency before flaunting his win as "President of Everybody"?
Sure, it was a misspoken sentiment — Blatter was trying to say that regardless of who voted for him, he's going to run the show fairly for everybody — but doesn't it fit? This is a man who thinks he's untouchable.
Before you start thinking about where we go from here, I encourage you to take a deep breath and think about what's going. Remember the scene from "Wolf of Wall Street" where antihero Jordan Belfort is supposed to step down but instead screams out, "I'm not leaving… I'm not (expletive) leaving. The show goes on. This is my home!!"?
What'd the crowd do? Went nuts. Where'd Belfort go? Eventually? Jail.
Now Belfort's a motivational speaker, which is charming considering he defrauded over 1,500 people. With Blatter, in all likelihood, that number is much higher. And right now he feels like a tall tree that cannot be cut down.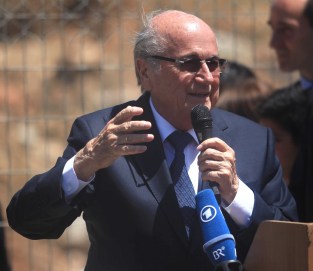 We can't blame you for feeling the same way, in a negative light. Yet remember: we're in the shadow of just one bizarre, rushed afternoon, and the FBI, Swiss police and others are sitting there like Agent Denham, watching the money float off the yacht, hoping to strike soon.
We live in cynical times, and I don't blame you one bit for wondering what it would take for Blatter's comeuppance to arrive. Yet remember, he forced this election upon FIFA despite ominous clouds hovering over his organization. Blatter could've stepped down. He didn't.
Maybe next time it doesn't rain money.