LONDON — For the second-straight season Arsenal lifted the FA Cup trophy at Wembley Stadium as the Gunners continue to edge their way into the conversation for the Premier League title next season.
[ RELATED: Three things we learned ]
Arsene Wenger's men battered Aston Villa 4-0 at Wembley – the biggest victory in an FA Cup final since Manchester United's 4-0 win over Everton in 1994 – and from start to finish they oozed class with Man of the Match Santi Cazorla controlling the tempo and the pacey duo of Alexis Sanchez and Theo Walcott ripping Villa's shaky defense to pieces.
A record 12th FA Cup win will be lauded, as it should, and it has capped off yet another fine second half to the season for the Gunners. Wenger's men have lost just two of their final 24 League and FA Cup games of the season on their way to adding a second-straight FA Cup to the trophy cabinet.
Speaking after the match, Wenger was delighted that his side cruised to victory and believes they've made progress this season.
"We feel we have made progress since the start of the season. That is for sure," Wenger said. "The way we play and the way we manage our games. In our togetherness as well. Our certainty about our football. We finish third, we won the cup. Since January I think we have made a huge number of points. It is a good platform to do better next season. But  in England it is not like in any other country, you have six teams who can win the Premier League. I know people don't accept that but it is the reality."
Wenger made a big decision to bring in Theo Walcott  to start ahead of Olivier Giroud up top but the Englishman — who was injured from January 2014 to January 2015 after tearing his ACL in an FA Cup third-round match against rivals Tottenham — was pivotal in unlocking Villa's defense just before half time with a powerful volley to open the scoring.
"I had many big decisions to make before the game day because I had to leave big players out of the squad. Difficult decisions. I just tried to find a good balance in the team," Wenger said. "Walcott was on a high because he scored a hat trick last week. He just came back into good form. Giroud has given a lot to the team since January. But in recent games I felt he was a bit jaded."
[ RELATED: Full PL season reviews ]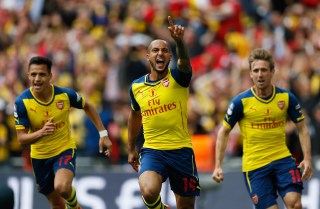 Saturday's success — which was made certain with a thunderbolt from Alexis Sanchez, a header from Per Mertesacker and a late Giroud flick —  was the Frenchman's six FA Cup crown which puts him at the top of the list alongside George Ramsay as the most successful managers in the competitions long and illustrious history. Wenger's tactics were spot on at Wembley, as Arsenal's plan to play pacey attackers against Villa's pedestrian backline delivered a sublime attacking display with the Villans failing to gain any foothold whatsoever in the game.
"I thought the pace would be a problem for them because they play high," Wenger said. "We had combined pace of Sanchez and Walcott. It was for us to dominate the midfield to use our strikers. If you manage to dominate the midfield we would be dangerous."
Wenger's next aim will be to challenge for the Premier League. The Gunners haven't won the PL since 2004 and a decade on from their last success they now seem to be mounting a legitimate challenge to Manchester City and Manchester United to try and snatch the crown away from Chelsea next season.
"I think of course we can push on. Why not?" Wenger asked. "We have won the Premier League in the past when we had the potential to do it. That's what we want to do again."
How can they do it?
Well, when you look at the strength of Arsenal's squad on Saturday, it was quite stunning. Danny Welbeck, Mathieu Debuchy and Mikel Arteta was injured. Olivier Giroud, Alex Oxlade-Chamberlain, Gabriel and Jack Wilshere were on the bench. Calum Chambers and Tomas Rosickey weren't even in the squad. Yeah, the Gunners are stacked. Asked if he plans to strengthen this summer, Wenger was jovial but revealed a lot of thought will go into the next additions.
"I am not in a buying mood tonight. I will buy a drink for my players," Wenger joked. "We will see what is going on in the transfer market but we have a good base and we have some time now because we don't play a qualifier in the Champions League. We have a good confidence level. Let's show that we can be intelligent over the summer."
Being intelligent for Arsenal means buying a top class goalkeeper, a star center forward and perhaps a powerful box-to-box midfielder in the mold of Paul Pogba. Wenger confirmed he is happy with his midfielders and said he isn't interested in Juventus hard man Arturo Vidal, but the Gunners are now in a sound financial situation where they can go out and add one or two world class talents each summer to augment their sturdy squad. That's all they need, two or three intelligent buys to push them onto the next level.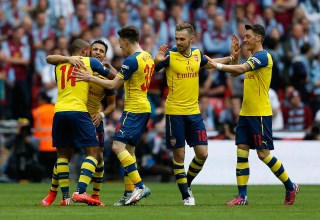 Giroud, who flicked home his 19th goal of the season in the final minute, agrees with Wenger that the aim must be to win the title next season.
"The Premier League title is the target. Hopefully we will be there," Giroud said. "Without the injuries and if we keep this squad with one or two more players then we will have a good chance to challenge for the title."
So does Walcott, who has only got one-year left on his current deal but Wenger is desperate for the 26-year-old England international to stick around.
"The Premier League has to be the next target for us," Walcott said. "That's two FA Cup wins now but this is one of the best squads we have had at Arsenal so we should be achieving more. We need to start well in the Premier League next year."
Now, without the rigmarole of having to play in a UEFA Champions League playoff match in August for just the second time in five seasons, they can approach next season knowing they're already in the UCL group stages and can offer that to potential signings over the summer. Wenger's men have notoriously been slow starters but with the strength of their current squad and the togetherness he referred to, the north Londoners are in a very good place.
The big question now is that after a season of progress in terms of their PL league position from fourth to third, can Arsenal gel over the offseason and add key players who can help them go to the next level.
"That's what we want to show next season. We don't know how good the other teams will be," Wenger said. "It is about consistency at the top level and we have shown signs of consistency. In the past as well when we won leagues we showed consistency. We are the only ones who didn't lose for 49 games. Nobody else has done it. When you have a good confidence level and quality, you can be consistent."
As for Villa, it was a bad day at the office for Tim Sherwood's side who failed to register a single shot on target as Arsenal blew past them at Wembley.
"They have outstanding, world class footballers and we couldn't nullify their threat. We couldn't impose ourselves on them either… They deserved to win the game. No question about that," said a dejected Sherwood. "It was quite obvious that they had their own way today and dominated the football match."
Sherwood kept Villa in the PL, his main aim when taking over the Midlands club in February, but is under no illusions as to the challenge ahead of him this summer as he confirmed a number of players have already been told they can move on and find new clubs.
"The team has scrapped relegation for the last four seasons which is not good enough for a club like Aston Villa. We need to change some of their mentalities because some of the players are used to losing football matches and that is not a good habit to have," Sherwood added.
For Arsenal, the opposite is true. Can they now bottle up their scorching second half of the season and unleash it from the start of the 2015-16 season?
If Wenger can keep his players fit, keep his massive squad happy and add a few key additions, Arsenal will go very close to winning it all next season. Progress is the key word at Arsenal during the 2014-15 season.