Last summer Luis Suarez bite Giorgio Chiellini on the shoulder when Uruguay beat Italy 1-0 in the group stages of the World Cup in Brazil.
[ RELATED: De Gea update ]
Cue pandemonium across the globe as the Uruguayan forward was heavily reprimanded for having bitten an opposition player on the field of play for the third time in his career. Yes. That's right, for the third time.
Suarez was subsequently banned for four months and nine international games for his actions, but after returning to action for his new club Barcelona in October he has been in indomitable form alongside Lionel Messi and Neymar.
[ RELATED: Early UCL final storylines ]
On Saturday Suarez and Chiellini will meet for the first time since the former's bite in Brazil, as both Barca and Juventus aim to cap off sparkling season's by lifting the UEFA Champions League trophy in Berlin with the victors sealing a remarkable treble of trophies for the 2014-15 campaign.
Chiellini was asked what his reaction will be to facing Suarez once again and if they'll shake hands.
"Of course I will (shake hands)," Chiellini said. "I'll hug him happily, too, there's no problem at all. Those who know me even a bit know that that's how I truly feel. I have no problem with him and I think it's the same for him. I have to think about him as a player, how he moves, his great skill but nothing more."
With many calling for Suarez to be banned from playing for life after the incident last June, it is clear that the man he bite, Chiellini, was always calling for a soft approach for Suarez. Yes, Suarez has issues. Everyone has seen it. But he has served his time for the crime he committed on the soccer pitch and as Chiellini says, he is a wonderful player — Suarez has scored 24 times in 42 games for Barca this season — who seems to have learned from his mistake last summer.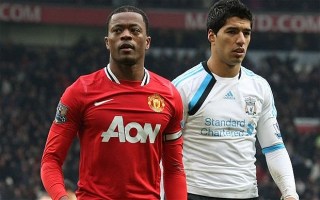 His actions were inexcusable, especially for making the same mistake three times, but there is no denying his supreme talent as one of the greatest attacking players on the planet. He will also have another issue to come up against on Saturday as Patrice Evra — the former Manchester United player who Suarez was convicted of racially abusing while at Liverpool — now plays for Juventus. Evra has already said he will shake hands with Suarez (even though the Uruguayan famously refused to shake his hand in a previous United vs. Liverpool match) when the duo meet again.
Controversy and Suarez go hand in hand.
It is likely that Suarez, a forward, and Chiellini, a defender, will clash early and often during the UCL final. The eyes of the world will be on them throughout but it seems like the events of last summer in Natal have been easily forgotten by Chiellini. It's easy to hold a grudge, but much harder to move on swiftly and act with class. Chiellini has done the latter.
Fair play Giorgio, fair play.