Sepp Blatter says he's leaving his post as FIFA president, and soccer's governing body says the soonest it could hold a proper election is December.
So there's the why and then (maybe) when for FIFA's regime change.
As for the who, that's another story.
[ MORE: All the FIFA news you need ]
A pair of candidates have already announced their intentions to run for FIFA's highest office. One is Jordan's Prince Ali Bin Al-Hussein, Blatter's rival in Friday's election, and the other is Luis Figo, who dropped out of the election citing a rigged process.
Who else? Well, we'll give you the names already making the rounds and venture some guesses as well.
Michel Platini — UEFA's president is one of the most powerful men in football and would certainly carry a good deal of weight with voters should he decide to toss his hat in the ring. The 59-year-old Frenchman has been a vocal opponent of Blatter and proponent of reform.
Sunil Gulati — The Indian-born and American-raised Gulati raised eyebrows with his confident backing of Prince Ali, and carries connections to two gigantic nations. His work in guiding U.S. Soccer will resonate abroad, but could he top a European candidate?
Figo —  Yes, he's green, but the former superstar has not been afraid to rock the boat. His speech after pulling out of the election was both biting and brilliant.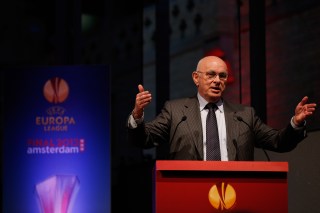 Michael van Praag (left) — The head of Dutch football also pulled out of last week's election. Knowing that Blatter is out, will van Praag still have the appetite for the job?
Issa Hayatou — You could see Blatter and his contingency get behind the Cameroonian, who is in his third decade as boss of the Confederation of African Football. He'd fit the underling model, despite running against Blatter in 2002, and wouldn't necessarily inspire the populace, but Blatter won, too, and would certainly like to wink at his detractors by installing a clone of sorts.
Jerome Champagne — Pulled out of the election well before the others after failing to land the minimum backing of five national football federations, saying he felt he was conspired against for being too independent.
Ted Howard — CONCACAF's general secretary, this American is viewed as a more likely candidate than Gulati despite being better known in the business world than soccer circles.