Barcelona vs. Juventus. The Spanish champions vs. the Italian champions.
One side will be crowned European champions in the UEFA Champions League final in Berlin on Saturday. The losers will cry themselves to sleep eating either paella or pizza.
[ LIVE: Follow Barca v Juve ]
Ahead of the monster clash at the Olympiastadion — both sides know a victory will seal a memorable treble — here's a look at five key battles which will play out on the pitch.
Lionel Messi vs. Leonardo Bonucci
Messi was described by Juventus' legendary goalkeeper Gianluigi Buffon as an "extra-terrestrial playing with us humans" in the build up to this game. Yeah, that's about right. Scoring goals like this one on his way to 58 strikes in 56 games this season, it is hard to see exactly how Juve can stop Messi. However, they did lessen the impact of Real Madrid's Cristiano Ronaldo in the semifinal and Italian international Bonucci will have the task of marshaling the incredible Messi. Usually the powerful Bonucci gets help from his partner in crime Giorgio Chiellini but the latter is out injured. Juventus have only conceded seven goals this season in the UCL but a reshuffle from three to four at the back and losing a key center back is not ideal for a game as big as this against a striker as good as Messi.
Javier Mascherano vs. Carlos Tevez
What a duel this promises to be. Mascherano and Tevez both came to English soccer in the same transfer in 2006 when they arrived at West Ham United and the Argentine internationals are close friends off the pitch. All of that will be put aside for 90 minutes on Saturday with Mascherano set to man mark Tevez. A central midfielder by trade, Mascherano makes up for his lack of height at center back by reading the game superbly and striding out of the back line to show off his distribution skills. Tevez, 31, is enjoying a sensational season for Juve as the former Manchester City and Manchester United star will be looking to win his second UCL title as a player and add to the seven UCL goals he has so far this season. No love lost between these two. Perhaps the most intriguing individual battle on the pitch.
Dani Alves vs. Patrice Evra
Both of these full backs have won the Champions League but both are very different defenders. Evra, now 34 years old, is more of a traditional full back who defends first and sits back but Alves loves to bomb forward and create overloaded situations for Messi, Neymar and Suarez to exploit down the right. It will be a great battle to dominate this flank. Expect plenty of meaty challenges and theatrics as the game unfolds.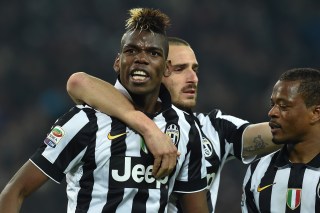 Ivan Rakitic vs. Paul Pogba
This is where Juventus could really get the edge. Rakitic is a sublimely talented player and has kept Xavi out of the starting lineup for Barca for most of this season. But can the Croatian match up to the physicality of Pogba? The man they call the Octopus will be all over Rakitic like a rash and if Pogba can break through the lines and get running at Barca's defense, the Spaniards could be in big trouble. On the other side of the coin, if Pogba doesn't track back then Rakitic is superb with the ball and can pick out defense-splitting passes for the deadly trio ahead of him. A key battle in deciding the game.
Andres Iniesta vs. Andrea Pirlo
Ah. Let's save the best until last. Two maestros will do battle in the engine room as Iniesta and Pirlo purr like a finely tuned Ferrari when they get on the ball. Both men have bags of experience with Pirlo, 36, surely getting his last chance to play in the UCL final after winning two titles with AC Milan back in 2003 and 2007. As for Iniesta, he has captained Barcelona this season in the absence of his tiki-taka partner Xavi and has already won the UCL three times with the only club he has ever played for. Both players will want to dictate the tempo and get on the ball as much as possible. Expect to see dazzling passes and mind-blowing composure from two geniuses. Will either deliver the game-winning moment with a piece of magic?