Gianluigi Buffon is a hero in Italy, a world-class goalkeeper who's got more winner's medals than most elite Olympians.
But the Juventus goalkeeper has a battle on his hands, in his own home even, when it comes to Saturday's UEFA Champions League final.
Buffon says his kids favorite players are Lionel Messi and Neymar, two of the Barcelona players who will try to embarrass their father's side.
[ BARCA/JUVE: Five key battles ]
It's one of just many subplots to the UCL final. By the time the referee blows his whistle to end Saturday's match, both Juventus and Barcelona will have participated in 8 finals a piece. Will Juve make it 3 wins, or will Barca make it 5?
Team defense
Don't be surprised if this one's scoreless for a while despite all the big names. Sure there's Messi, Suarez, Tevez, Pogba, Pirlo and Neymar, but only Bayern Munich (18) allowed fewer goals in league play than Juventus (24) and Barcelona (21). Both sides are seasoned with talent, though Juve won't have Giorgio Chiellini. At the back are strong goalkeepers, but if there's an edge it goes to the experience of Buffon.
Team offense
It's difficult to argue against Barcelona, which backs up its trio of brilliant scoring attackers with names like Ivan Rakitic, Xavi and Andres Iniesta. So we won't debate whether it's better to have Juve's corps. Barca has the edge here, but sleeping on The Old Lady isn't a good idea.
Managers
After a Fall of discontent, Luis Enrique has proven he can manage the egos of Barca's superstar contingent, and to set them up for wins. That said, these are unchartered waters for Juve boss Massimiliano Allegri as well. He has a Serie A title with AC Milan, but European spoils have evaded his reach.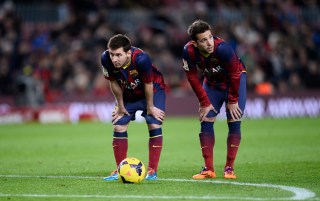 Wild cards
Jordi Alba (right, with Messi) is not only a major cog for Barca's defense, but a threat going forward, as is Dani Alves. Assuming Barcelona goes with a 4-1-2-3, it will be interesting to see whether the compact 4-3-1-2 that could be favored by Juve causes fits in the midfield.
Outlook
On talent, organization and experience, it wouldn't be a surprise for Juventus to pull off a win, but Barcelona has looked deadly at every turn over the past month. We'll bet on the Blaugranas to move to 5-3 in UEFA Champions League finals. A late lead allows Barca an insurance goal on the counter attack in a 3-1 win.