They've done it again. The U.S. national team has come from behind to beat one of the world's top teams — this time the top team, reigning world champions Germany — on European soil.
[ FULL RECAP: Germany 1-2 USA ]
Following last Friday's thrilling come-from-behind victory over the Netherlands, Jurgen Klinsmann's USMNT has a great deal of confidence ahead of this summer's CONCACAF Gold Cup (July 7-26).
Without any further ado, player ratings for the USMNT's 2-1 victory over the world champs…
GK — Brad Guzan: 7/10 — His save of Mario Gotze in the 31st minute kept the early deficit at one, allowing the late comeback to take place. A couple more strong saves shortly before the equalizer seemed to spread confidence throughout the team. Good luck winning "your job" back, Tim Howard.
LB — Fabian Johnson: 5.5/10 — The best of the four defenders in the first half, which isn't saying a whole lot. The German goal began in Johnson's part of the field, but his lack of closing down was hardly the most egregious error on the play.
CB — John Brooks: 5/10 — Wednesday was better from Brooks, but his tendency to fall asleep and leave massive areas of space wide open with some of the world's best attackers (Klaas-Jan Huntelaar on Friday and Mario Gotze on Wednesday) has already and will continue to cost the U.S. at the highest level.
CB — Ventura Alvarado: 5/10 — Showed once again that he's not yet ready to face the world's top teams, but this week will be a very good learning experience for the 22-year-old in the end.
RB — Timothy Chandler: 3/10 — Speaking of the most egregious error on the German goal, what in the world is Chandler doing/where does he think he's going? That's inexcusable, and if we're being honest, a sign that he isn't fully committed to the team when he steps out on the field and/or simply not good enough for this level.
[ EDWARDS: After NED, GER victories, USMNT riding newfound wave of momentum into Gold Cup ]
CM — Danny Williams: 5/10 — Came off at halftime following a subpar first half in which he was forced to run around like a chicken with his head cut off, thanks to the defensively failures of those in front of him. Somehow didn't misplace a single pass in his 45 minutes on the field.
CM — Mix Diskerud: 6/10 — Scored the equalizer, but an unmitigated disaster defensively in the first half. Was pulled out wide to create massive passing lanes far too easily, which kept Williams, Johnson and Brooks under constant pressure. It could should have been 2-0 or 3-0 early, and Diskerud was a key cog in the breakdowns.
RM — Gyasi Zardes: 5.5/10 — The first half was a huge test for Zardes — whether or not he could figure out the narrower-sitting midfield position in the 4-4-2 diamond. It didn't go so well, but looked better in the second half after moving up and using his size and strength in hold-up play very well.
CM — Michael Bradley: 7.5/10 — He's not a No. 10, but on Wednesday you sure wouldn't have known that based on his man-of-the-match performance. The ball over the top to Diskerud for the equalizer was poetry in motion, and not only does he manage to work himself out of trouble on numerous occasions every game, but he does the same for others around him as well.
[ RELATED: Klinsmann names 35-man provisional roster for 2015 Gold Cup ]
FW — Juan Agudelo: 5/10 — The U.S. had so little of the ball in the first half that Agudelo had very little chance to affect the game in his limited action (came off at halftime). He still has to figure into the USMNT going forward (exceptional talent and all that), but this was his chance to stake a claim to a starting spot, and it just didn't happen.
FW — Aron Johannsson: 5.5/10 — Johannsson was better than his nightmare against the Dutch, but showed once again why he's also probably a better off the bench, thanks to his tendency to disappear for prolonged periods.
Subs
RM — DeAndre Yedlin: 6/10 — Not nearly the impact he had upon entering the game against the Dutch, but still brought more in terms of wing play than Chandler, the first-half right back, did on overlapping runs. In a way Yedlin gets credit for Chandler's poor performance.
CM — Kyle Beckerman: 6.5/10 — Steady as ever (just three misplaced passes in 45 minutes, one of which was a 50-yard diagonal ball) and showed once again the difference between himself and any other defensive midfielder in the entire player pool. He's an absolute lock for the Gold Cup, and a borderline guaranteed starter.
[ RECAP: Netherlands 3-4 USMNT | Player ratings | Three things we learned ]
RB — Brad Evans: 6.5/10 — It was Evans' pacy through ball that found Bobby Wood for the game-winner. Much like Yedlin, Evans is made to look better in the second half by Chandler's struggles in the first 45.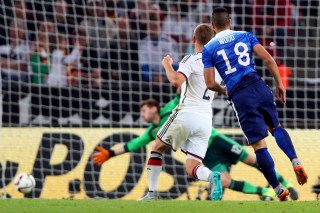 CM — Alfredo Morales: 5/10 — Asked to serve as the left-sided shuttler upon entering the game in the 74th minute, Morales struggled to find his rhythm and connect passes. It's pretty clear there's only one position in which he's serviceable, and unfortunately for him, Beckerman is currently holding onto that starting spot for dear life.
FW — Bobby Wood: 7/10 — I'm not really sure what else to say. There are certainly aspects of Wood's game that make him an interesting prospect (he's still only 22?!), but his finishing has long left much to be desired. His strike for the winner, a curled blast from nearly 25 yards, was pure perfection. Klinsmann has repeatedly called the kid in despite struggles for his club teams, yet Wood's name is somewhat surprisingly absent from the Gold Cup roster.
FW — Jordan Morris: 6.5 — Jordan Morris comes off the bench for the U.S., and the kid changes games. That's just what he does. Barely 20 seconds after entering the game on Wednesday, he went inches from scoring a winner of his own. He's fearless, he's ferocious and he's confident. He runs at defenders, he turns defenders and he's a better technician than most other (professional) forwards in the player pool. At this point, he almost has to be on the Gold Cup roster.