Germany left the door open, but Norway went over the wall, bar-down style.
Maren Mjelde's 61st minute free kick goal was a thing of beauty, and gave Norway a 1-1 draw against Germany in both team's second matches of the 2015 Women's World Cup.
Anja Mittag scored Germany's goal, and her side remains atop Group B on goal differential. Thailand and Ivory Coast tangle tonight.
[ MORE: Sundhage clarifies USWNT comments ]
Mittag has scored a lot of good-looking goals in her life, but this one was easy. She scooped up a shot spilled to the turf by Ingrid Hjelmseth and poked it home to make it 1-0 after just six minutes. The goal was her fourth of the World Cup.
Germany dominated the first half, out shooting Norway by a 19-0 margin. That's not a misprint, but neither was the 1-0 halftime score line. Germany's 10-0 win in its World Cup opener against the Ivory Coast had clinical finishing. This time around, their finishing was more in need of clinical care.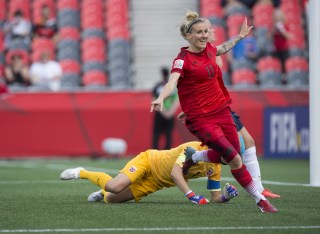 Norway came out for the second half in fine form, looking more like its status as a Top 15 team. That's when Mjelde's shot from just outside the 18 carried with it a bit of a justice, as it likely should've been a penalty kick for clear denial of a goal scoring opportunity. Regardless, the 25-year-old Norwegian curled the ball over the leaping wall and off the underside of the crossbar to make it 1-1.
It was Norway's third shot of the day.
Up next for Germany is Thailand, while Norway will face the Ivory Coast.