U.S. national team defender Omar Gonzalez has paid tribute to an "incredible" week for all things U.S. Soccer.
The USMNT beat Germany on and Holland away from home last week in friendlies, the USWNT currently sit top of Group D at the Women's World Cup in Canada, plus the U.S. U-23's finished third in the Toulon Tournament and the U-20's reached the World Cup quarterfinals.
[ RELATED: Latest transfer gossip ]
All in all, it's been a very successful 10 days or so for U.S. national team's across the board.
Speaking to ProSoccerTalk, Gonzalez also talked about Steven Gerrard's imminent arrival in MLS (more on that here), plus LA's slow start to the 2015 but was keen to speak about the Pass The Love campaign he has been getting behind to support the USWNT on their quest for World Cup glory in Canada this summer.
In what many lauded as a standout past week, Gonzalez reflected on all the USMNT, USWNT and U.S. youth teams have achieved in early June.
"It has been incredible for U.S. Soccer from the youth levels up to the senior teams. The U-20's did great, the U.S. men's team had unbelievable wins against Germany and Holland at their places was incredible," Gonzalez said. "Watching those games, there was such a difference from the first half to the second half in both games. I just love the fact that we never quit. We kept it going and figured out how to switch our formations on the fly. I was really proud of the guys for the way they fought and managed to get stuck in and grind out results in unbelievable fashion. I was just a fan here cheering them on. I thought it was amazing."
[ RELATED: Gonzalez says Gerrard to mirror Donovan, Beckham's impact ]
Focusing on the USWNT's early efforts in Canada, Gonzalez has urged the public to get behind the team just like they did during the USMNT's run to the last 16 in Brazil last summer.
"The women's team have always been so good and the fact that they have started this World Cup well, I wouldn't expect anything less," Gonzalez said. "I wish them all the best and it has been great to see the fans and the media have all rallied behind the women's team. It is important to rally the fans to give the women's team the same support they gave us in Brazil 2014. As a player I truly know how much seeing the support improves your play and your confidence."
As for the men's national team he is a part of, the 26-year-old believes Jurgen Klinsmann's side deserves a little more credit for going into the backyard of reigning World Cup champions Germany and No. 6 ranked Holland and grabbing gritty wins.
"They accomplished something that has never been done," Gonzalez said. "I would say 'a win is a win not matter how you did it or who is on the field.' I can tell you for a fact right now that those German and Dutch players they weren't there just to play. They wanted to get a result and show their coach they belong there. They were trying just as hard as the U.S. were. It was a competitive match and we accomplished something that has never been done. It is tough to hear fans and the media trying to dumb this great accomplishment down. It was truly great to see. The players who were out there on the field worked their assess off for it."
Gonzalez reserved special praise for 23-year-old LA teammate Zardes who scored his first international goal in the game against Holland and started both contests in Europe.
"I was really proud of my teammate Gyasi [Zardes] going there and playing in both games," Gonzalez revealed. "I know how hard he works on a personal level because I see him every single day. He is a guy who is very driven and wants to get better every single day. To see him go there and score a goal and make a difference in both games was great to see."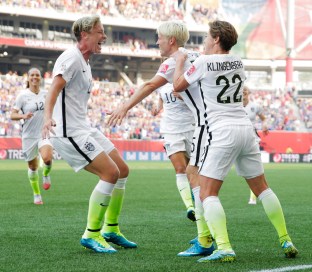 Heading into the summer, Gonzalez was named on Jurgen Klinsmann's initial 35-man roster for the Gold Cup being hosted across the United States in July. After winning the tournament in 2013, Gonzalez is eager for the U.S. to become CONCACAF Champions once again and compete in the Confederations Cup in Russia in 2017.
"We are just trying to build off these two wins, continue with the confidence and continue with the great play because this Gold Cup is huge for us," Gonzalez said. "If we win then we have a ticket to the Confederations Cup and that is a tournament we want to be a part of. We missed the last one so winning this Gold Cup will be huge for us. It is one of our main goals."
Fulfilling that goal is going to be tough as both Mexico and Costa Rica are ranked above the U.S. in the current FIFA World rankings and all three nations reached the knockout stages of last summer's World Cup with Costa Rica bowing out bravely at the quarterfinal stage.
"It is going to be extremely difficult," Gonzalez conceded. "Costa Rica and Mexico, just to name a few teams, are very talented and want to win and go to the Confederations Cup just as bad as we do. We know that we have a lot of work ahead of us but if we can continue with the same mentality and the way we approach the games with that never say die attitude we can accomplish a lot. I know we will have players that can do it and we just have to go out there and perform like I know we can."
As for the future of U.S. Soccer, Gonzalez believes it is bright after a week of success throughout the ranks.
"It is great to see the young guys always doing so well because you know the future is in good hands," Gonzalez said. "There are so many young players who are learning the game quicker and are getting the proper coaching. It is great for the future and great for the now. As we saw in the last few games for the U.S. men's team, a few young guys came on the field and made a big difference. It was great to see."