Tosaint Ricketts scored a pair of goals, and MLS stars Tesho Akindele and Cyle Larin also scored as Canada cruised into the third round of CONCACAF qualifying for the 2018 World Cup with a 4-0 second-leg win on Tuesday.
Larin also scored in the first leg for Canada, which won 6-0 on aggregate. Benito Floro's side is looking dangerous, albeit against weaker competition, and is unbeaten in five with a draw against Iceland preceding wins over Guatemala, Puerto Rico and the pair over Dominica.
Elsewhere Deon McCaulay of the Atlanta Silverbacks scored his third goal in two matches against the Dominican Republic as Belize scooped up a 5-1 aggregate win with a 3-0 win at home on Tuesday.
[ MORE: Wambach lifts US past Nigeria ]
Former Germany youth international Stefano Cincotta netted to lift Guatemala past Bermuda with a valuable goal in Devonshire.
Cuba was surprised by Curacao, as 21-year-old ADO Den Haag midfielder Papito Merencia's away goal is superior to Yenier Marquez's fifth-minute goal.
The third round draw will be held on July 25, with Jamaica and Haiti joining the fray. Matches will be played between Aug. 31 and Sept. 8.
CONCACAF second round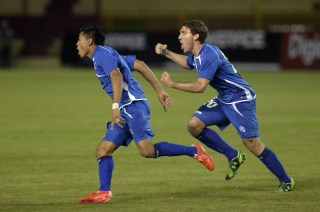 Guyana 4-4 (6-6) Saint Vincent and the Grenadines
Saint Lucia 1-4 (4-5) Antigua and Barbuda
Grenada 2-0 (2-1) Puerto Rico
Canada 4-0 (6-0) Dominica
Belize 3-0 (5-1) Dominican Republic
Bermuda 0-1 (0-1) Guatemala
Barbados 1-0 (3-0) Aruba
El Salvador 4-1 (6-3) Saint Kitts and Nevis
Cuba 1-1 (1-1) Curacao
Suriname 1-3 (1-4) Nicaragua