Following his red card for the Seattle Sounders in their 3-1 U.S. Open Cup defeat to the Portland Timbers on Tuesday, U.S. national team captain Clint Dempsey is the talk of the town for all the wrong reasons.
[ RELATED: Vidal crashes Ferrari in DUI ]
Dempsey, 32, reacted angrily to his teammate Michael Azira being sent off and ripped up the notebook of referee Daniel Radford before walking off the pitch as he was sent off. Defending Open Cup champs Seattle finished the match with just seven men on the field and now U.S. Soccer must dish out punishments.
Those punishments will include dealing with Dempsey's behavior as the maverick talent let his temper boil over and he may now have to face a heavy punishment.
According to the the laws of the U.S. Soccer Federation, Dempsey will face a three-month ban after "damaging the referee's uniform or personal property" which is basically classed as assaulting a referee.
[ VIDEO: Dempsey loses it, Sounders finish with 7 ]
A three-month ban would rule Dempsey out until mid-September, meaning he will not be available to the U.S. national team for their crucial Gold Cup campaign this summer as Jurgen Klinsmann's side look to seal a spot in the 2017 Confederations Cup tournament by defending their title on home soil.
Should Dempsey be allowed to play or should he get the lengthy ban which is clearly stated by the USSF regulations?
Ask yourself this question, if this was a lesser known MLS player or a player from the NASL, would we even be having this conversation?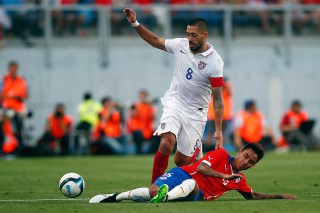 Dempsey is currently the second-highest goalscorer in U.S. national team history with 40 goals and is sixth in all-time appearances. His role for the USMNT is pivotal and he is a role model but can the USSF risk not treating the Dempsey the way they would treat any other player? Certainly not.
Why did he feel the need to react so strongly to questionable calls from the referee? Dempsey's petulant act could be a combination of many things such as sleep deprivation from his fourth-child just being born to utter frustration at the Sounders being riled by their neighbors. The truth is, Dempsey has played on the edge his entire career. That's what has made him one of the greatest Americans to ever player the game and why he captains the national team.
We don't know exactly why he snapped on Tuesday night, but he should not be banned for three months for ripping up a ref's notebook. What is more reasonable is a five or six game ban for the highest-paid player on Major League Soccer's best-supported team. He is a role model in Seattle and across the United States of America. What he did was wrong but he didn't push or shove the referee and it was a moment where he was having a little fun with the ref but took it a step too far.
Fans of Seattle and the USMNT will wait anxiously to see what type of punishment Dempsey will get but he almost certainly will be sitting out at least the next month at a pivotal stage of the season for both club and country.