EDMONTON, Alberta – Defense wins championships, but it still hardly ever gets recognized.
Forwards score goals and goals win games, true of the past, present and future. Scoring is entertainment.
This defense, however, has been getting its dues.
Entering this 2015 Women's World Cup, the attack was all anyone could talk about for this United States team. How could a team with Abby Wambach – the world's all-time leading goal scorer – Alex Morgan, Christen Press, Sydney Leroux and 2014 NWSL leading scorer Amy Rodriguez not run roughshod over opponents?
That's what makes the story of the United States' World Cup thus far even more incredible: all anyone can talk about is the defense.
[FOLLOW: Latest Women's World Cup coverage from ProSoccerTalk]
Led by Becky Sauerbrunn, the back line overcame a shaky opening 20 minutes of the tournament against Australia to give up only one goal in the first three games. Sauerbrunn has been the team's best player, with fellow center back Julie Johnston a close second. Left back Meghan Klingenberg saved the day in a 0-0 draw with Sweden last week, practically jumping out of her cleats to head a shot off the line, off the crossbar and away from danger. Ali Krieger has gotten forward into the attack to provide service offensively and goalkeeper Hope Solo has been clutch when called upon, no more so than in the opening minutes against Australia when she made two game-changing saves.
"Those four have been so cohesive with each other," Morgan said. "They're showing that they're the best back line in the world right now."
So it begged the question over the past few days, first in Vancouver and now in Edmonton: Can the United States win the Women's World Cup with the defense as its main act?
"Well if you don't give up any goals, I think you have a hell of a chance," U.S. coach Jill Ellis said.
"There's not a back line in the world that wouldn't be tested in this group, with the pace and transition of these teams. So I'm just really pleased. We just talked about in the locker room how battle-tested we are coming out of that and how confident we should feel in our back line."
[KASSOUF: US women look to stay loose despite pressure of knockout rounds]
The Americans defeated Australia in their opener, followed by the draw with Sweden and a narrow victory over Nigeria.
Sauerbrunn has taken over the leadership role in the absence of Christie Rampone, who battled injuries earlier in the year. By the time Rampone was healthy, Johnston looked like a shoe-in to start after scoring in three straight matches – including the Algarve Cup final against France – and seamlessly forming a partnership with the 30-year-old Sauerbrunn.
"They both read the game really well," Ellis said of Johnston and Sauerbrunn. "They are both instinctual on when they need to go to ground. I think they are both good in the air. I think they are very, very good at reading the game and cutting off angles and timing."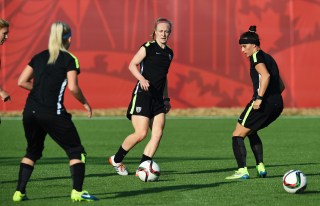 Both Johnston and Sauerbrunn excel at reading the game, stepping to the ball at the right moment and slide-tackling when necessary. Their positioning has been nearly perfect thus far, and when it hasn't been, they have compensated with athleticism.
Sauerbrunn said in a recent interview that her favorite player of all-time is the recently retired Paolo Maldini, a gritty force in defense for Italy and AC Milan in the 1990s and 2000s. But this World Cup thus far – for Sauerbrunn and her team – draws more similarities with the Italy team that won the 2006 men's World Cup.
That year, the Azzurri were in the Group of Death, just as the United States women found themselves in at this World Cup. Like the U.S. women this year, that Italy team won the group (which featured the United States) with seven points, giving up only one goal.
Italy would only give up one more goal the entire tournament – in the final, which the Azzurri won over France in a penalty shootout – and Fabio Cannavaro finished second for the Golden Ball award, given to the tournament's best player (defenders never win those). Later that year, Cannavaro won the Ballon d'Or as the best player in the world, only the third defender to earn the honor (OK, defenders hardly ever win this award).
[MORE: Colombia's Lady Andrade guarantees victory over United States]
Cannavaro had many of game-saving plays for Italy in 2006 and his form was consistently spectacular through all seven games at the World Cup. Sauerbrunn, through three games, is having a similar sort of tournament for the U.S. women. She twice tracked back to catch a player from behind and deny a clear goal-scoring opportunity, first chasing down speedy Sam Kerr on a breakaway in the opener against Australia and then sliding to intercept a pass on a 2-v-1 against Sweden.
Sauerbrunn calls that her "oh-crap speed," an instinctual next gear that tells her something is wrong and needs to be corrected – and quickly. (Johnston has that speed too, as evidenced against Nigeria when she got a foot in to block Asisat Oshoala's 1-v-1 opportunity.)
If the U.S. is going to win this World Cup, Sauerbrunn and Johnston will need to continue to stand on their heads, so to speak, which they make look quite easy.
Johnston wasn't even supposed to be playing at this World Cup, remember. Not by the way the initial World Cup qualifying roster looked only eight months ago. Ellis left Johnston off the roster, thinking that Johnston, who only turned 23 years old in April, still needed to refine her game.
Mentally, Johnston wasn't yet strong enough, she said in an interview with NBC Sports prior to the World Cup. And physically, she wasn't as fit as she needed to be. So Johnston trained with midfielder Carli Lloyd and her trainer, James Galanis, in New Jersey in late September and early October while the national team was in between training camps. She eventually made the qualifying roster due to an injury to Crystal Dunn, but Johnston didn't see the field during the tournament.
"At moments, I didn't believe in myself as strongly as some others, including Jill," Johnston said. "When I think back about it, [it] helped motivate me as well. I knew I could do it and it was just like at moments of time it got hard. But [Ellis] sat down and said, 'I believe in you, I watched you at the [U-20 World Cup].' All of this stuff that just sounded so confident in me."
Rampone could see Johnston's future, too. Rampone, the longtime U.S. captain, watched that 2012 U-20 World Cup, which the U.S. won. Johnston captained that team. She even wrote letters of encouragement to the team ahead of the tournament.
Later that year, Johnston sat on the bench to watch the senior U.S. team practice ahead of a game in Arizona, where Johnston grew up.
"You're going to be here some day and it's not going to be long," Rampone said then to Johnston.
Little did Rampone or anyone else know that Johnston would arrive this quickly. Even only a few months ago, Rampone and Sauerbrunn were the expected starters at center back for the United States. But Rampone and Whitney Engen both carried injuries in May, forcing Johnston into the lineup. She never looked back from there.
"Opportunity presented itself with two injuries," Ellis said. "So now she's getting the starting nod in big games and she's risen to the level. She's good both sides of the ball as well, certainly on attacking set pieces as well as defending."
Johnston embraced the opportunity, taking it head-on.
"At the end of the day, when the team asks you to do something and everyone else is busting their butt, you want to do whatever the teams asks of you," she said.
Doing what the team asks: another way of finding that "oh-crap speed" of which Sauerbrunn speaks.
"Luckily I found it because I was not going to be the reason why we went down," she said after the Sweden match.
Those are the attitudes that have made a world of difference thus far, and they will need to continue for the United States to succeed. The credit may not always go to the defense – although it certainly has for the U.S. thus far at this World Cup —
"For us, I think we give them that credit they deserve," says U.S. midfielder Tobin Heath, noting that she plays against the defense every day in practice. "They are incredible and we need them for these next games moving forward, because I think that's what's going to win this thing."