Diego Maradona may have been the best soccer player of all time, but will he be the best FIFA president?
According to a source close to Maradona, the Argentine legend is going to run for FIFA presidency to try and become Sepp Blatter's successor.
[ RELATED: Ramos to Man United? ]
Despite his incredible talent on the pitch during his career which saw him win a World Cup title and numerous accolades with clubs including Barcelona, Napoli and Boca Juniors, Maradona, 54, has suffered many issues off the pitch including, but not limited to, substance abuse, tax evasion and multiple health issues.
On June 20 there will be a decision made as to when the next presidential vote will take place to pick Blatter's successor but it is believed it could take place in December this year. Journalist Victor Hugo Morales is the source who claims that Maradona is intending stand as a candidate to replace Blatter.
"Diego will be candidate for FIFA (presidency), with all the authority he has, he has been in the front line fighting from that world of (soccer) players …," Morales said. "Diego has been a spearhead to talk about corruption inside FIFA, and corruption within the AFA (Argentine Football Association)."
Blatter announced earlier this month that he will step down as FIFA's president after 17 years in charge. The 79-year-old was elected to become FIFA's president for a fifth-straight four year term on May 29 but announced he was to resign just four days later amid probes by both the U.S. Department of Justice into alleged payments of over $150 million in bribes to high-ranking FIFA officials and a separate probe from the Swiss authorities into alleged "criminal mismanagement" during the bidding processes for the 2018 and 2022 World Cups in Russia and Qatar.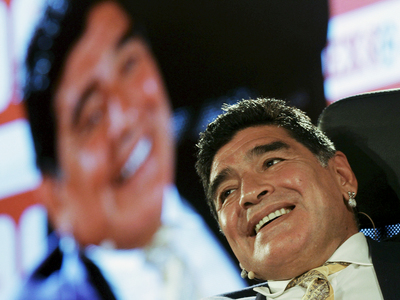 Maradona has been incredibly vocal in his disdain towards Blatter in the past and has had the following to say about FIFA's president.
"Under Sepp Blatter, FIFA has become a disgrace and a painful embarrassment to those of us who care about football deeply," Maradona said. "We have a dictator for life. I call Blatter 'the man of ice' because he lacks the inspiration and passion that are at the very heart of football. If this is the face of international football, we are in a very bad place."
What do you think, does Diego have the credentials to sort out all of FIFA's problems?
With other candidates such as Prince Ali of Jordan, Zico, Luis Figo and Michel Platini all in the mix, his name certainly carries a lot of weight. But would the Argentine legend be able to eradicate corruption from world soccer's governing body and give it the clean slate it so desperately needs?