Atletico Madrid's attacking midfielder Arda Turan wants out.
Specifically, he wants out of Atleti and a move to the Premier League.
[ MORE: Ramos wants Real exit ]
Turan, 28, has won the La Liga title, Copa del Rey and Eurpoa League title during his four years with Atletico after arriving from Galatasaray and the Turkish international star now wants to test himself in the PL.
All of this is coming from his agent, Ahmet Bulut, who told Spanish newspaper AS that his client intends to leave La Liga this summer and has a host of clubs lining up bids for him.
Here's more from Turan's agent:
"He intends to leave Spain this summer. It is his will to go out to play in the Premiership, that is where he would like to continue his career at this time," Bulut said. "His departure from Atletico is not easy because he has a clause of €41 million. There are ongoing talks with three teams at the moment. I cannot say their names, but they are the best of England and European football.

"Yes, it's true, Milan and PSG are two of the six teams that are interested in him. But the Italian team does not go into our options because it does not play the Champions League.

"PSG is a possibility, but he has always had a burning desire to prove himself in England."
With a release clause of $45 million, it certainly won't be easy for Turan's agent to negotiate a move for his client but after several seasons of loyal service to Diego Simeone it seems like this could be patched over. Clubs previously linked with a move for Turan include Arsenal and Manchester United, and his big-game mentality and tireless work rate would woo fans of either club. He is reliable too, with four-straight seasons playing in over 40 games for Atletico and he has scored 22 goals and added 32 assists in that time. He has always impressed me with his team-first ethos and he can play anywhere across the midfield.
[ RELATED: Chelsea won't bid over $60 million for Sterling ]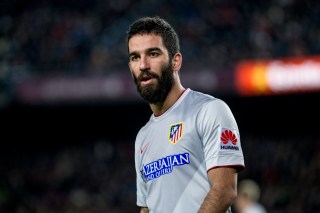 To me, Turan seems like the kind of player who would thrive at Chelsea under Jose Mourinho. Do Chelsea need him? With Cesc Fabregas, Eden Hazard, Juan Cuadrado, Oscar and Willian around, probably not. But his two-way mentality and penchant for scoring big goals at big moments is something that adds to his value. I've witnessed Turan grab a game by the scruff of the neck first-hand during the 2008 European Championships when the Stade de Geneve saw the roof lift off it when he scored first to set up an incredible comeback for Turkey against the Czech Republic. He also scored a game-sealing goal at Stamford Bridge for Atletico during their UEFA Champions League semifinal win over Chelsea back in the 2013-14 season. He comes up big when it matters most and he is right to demand a stay in the UCL, wherever he ends up moving.
Turan is not one of those guys who will get you off your seat with moments of brilliance but he grinds away all-game long and is a rich man's James Milner.
If United, Arsenal, Chelsea or Manchester City were to make a move for Turan, fans of any of those aforementioned teams should be delighted with a dependable purchase. Of course, you want more than reliability when you're spending over $45 million but Turan would adapt well to the Premier League and allow other attackers to flourish like he has at Atletico over the years when the likes of Radamel Falcao and Diego Costa have come and gone. Now, who will give him a chance in the PL?