The world's No. 1 and No. 3 teams will meet far earlier than they should thanks to FIFA's planned draw for the 2015 Women's World Cup.
Friday's quarterfinal between Germany and France is a match-up befitting a tournament final, but we're happy to greet it early.
[ MORE: Full match preview ]
The Germans bring a heck of a resume to this quarterfinal, having lost just a pair of matches since 2008. The world's No. 1 side boasts the tournament's two leading scorers, Celia Sasic (right) and Anja Mittag both have five, and has outscored its four World Cup opponents by a combined score of 19-2.
France's numbers aren't as gaudy, but still impressive. The French have a 9-2 advantage on their opponents, with their only blip a 2-0 upset at the hands of Colombia.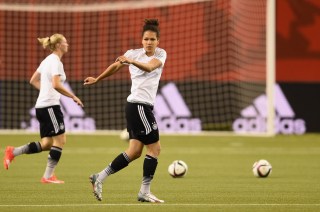 The winner will be expecting the United States, which faces China at 7 p.m. EDT.
When: Friday, 4 p.m., EDT
Where: Olympic Stadium, Montreal
TV: NBCDeportes.com
Team records: Germany 3-0-1 (def. Sweden 4-1 in second round); France 3-1-0 (def. South Korea 3-0)
Best performance at World Cup: Germany 2003 & 2007 (champion); France 2011 (semifinalist)