Vancouver, B.C – Canada and England know each other quite well as they get set to play in the quarter-finals of the World Cup. The Commonwealth Countries have met in the Cyprus Cup in each of the previous three tournaments. The Lionesses prevailed in 2015, 2014, and 2013 by scores of 1-0, 2-0, and 1-0. A Sophie Schmidt wonder-goal helped Canada gain the upper-hand most recently during an international friendly on May 29, in Hamilton Ontario. For the most part England have owned Canada.
Desiree Scott couldn't be more excited for what is about to take place.
"I'm excited for it, I think it's going to be an absolute battle out there. We're one win away from a semi-final. England's going to be going for it and so are we. It's going to be a good match."
Players on both sides are on friendly terms and get on well with one and other. Desiree Scott plays her club football with Notts County Ladies and will be facing four possible teammates on the pitch. Jodie Taylor has looked to find her form after knee surgery in April. The Portland Thorns player could possibly be looking at teammates Christine Sinclair, Kaylyn Kyle and Rhian Wilkinson on the other side of the half. Goalkeeper Siobhan Chamberlain played for the Vancouver Whitecaps in 2010. The ties between these teams run deep and will have to be put on hold for 90 minutes.
[ WATCH LIVE on NBCDeportes.com ]
There is a growing rivalry between Canada and England. Desiree Scott senses it as well, but won't put it as high up on the ladder of a U.S. vs Canada rivalry. The Winnipeg, native is looking forward to a good fight against some of her clothes friends.
"Yeah I think it's a little bit there. I don't think it's as strong as the U.S.A. vs Canada rivalry, but I definitely think it's going to be going out there for that W and putting in a good fight."
Ellen White will be looking to dribble around her Notts County teammate, The Destroyer. Not only do Canada and England seem to meet at each and every Cyprus Cup, but it was Canada that knocked out Team Great Britain at the 2012 London Olympics. White has not forgotten as she and her teammates will use that for an extra bit of revenge if they are victorious.
"Yeah, yeah that's true. We have played each other numerous times in the Cyprus Cup and it's kind of we've beaten them, and they've beaten us a couple of times as well. Yeah I think their might be a little bit of a rivalry for those that were involved in Team GB. Obviously still got that in the back of our minds. A little bit of revenge again them for those players that played. It's going to be a massive game for us and obviously for them being on home soil in Canada, it will be a big game for them."
[MORE: Complete coverage of the 2015 FIFA Women's World Cup]
The pressure on Canada is enormous. The home country has received support from coast to coast. Fans have been stopping John Herdman and players on the street to wish them congratulations and to thank them for playing so well. The added pressure is not something Mark Sampson and England will have to face. Canada squarely has the pressure pointed at them.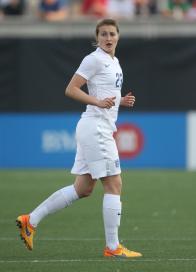 White, the 26 year-old striker gave an assessment on how she see the Red and White.
"Obviously they've got a lot of pressure with the whole of Canada watching them. I think they've probably grown as the tournaments go on. Gained confidence and momentum. I think they've got some very good players. Very good attacking player and they're good defensively. It's going to be a difficult game for us, but we know each other quite well. It's going to be a very exciting game and it's a semi-final at stake. It's a big, big game."
Coaches Mark Sampson and John Herdman both hail from the United Kingdom. Sampson from Wales and Herdman from the Northeast of England in Consett. Both Managers have done wonders for their respective programs since taking over. Canada and England players are motived and finally working and playing in a positive environment where they can thrive. The 32 year-old Sampson talked about his relationship with Sampson and how positive the coaching fraternity is in women's football.
"I think to be honest, the international coaching scene is a real positive environment. A lot of the coaches we obviously play against each other. With Canada, we play against each other on a pretty regular basis. To play each other for the 4th time in 18 months is incredible, really. Considering it's an international fixture program. I've got a huge amount of respect for John. He's done an excellent job with the Canadian team. The team certainly reflects John as a coach, as a person. Very competitive, highly organized and determined. He's certainly going to put a team out that makes our job very very difficult to win tomorrow. I've seen him around and of course we're going to bump into each other in the hotel. Clearly he's gone a bit more quiet over the last few days with a big game coming up. Certainly we'll shake hands and wish each other the best, whichever team progresses."
Scott and her Notts County teammates have kept in touch during the World Cup by sending texts back and forth. A group of Canadian players got together and watched the Norway vs England match. While they may be chatty and friendly most of the time. The focus is on winning and making it to the semi-finals in Edmonton against Japan or Australia on Canada Day. The former University of Manitoba Bison might just be putting her phone away for a bit leading up to the match.
"Shot them a final text. We've been texting through the group stages wishing each other good luck. Now that we're playing each other, okay, that's all that we're going to hear from each other. See you Saturday, it's game on."
Can the same be said for Ellen White?
"We've got kind of group chat with Notts County wishing everybody good luck. I think once it comes into Canada or England we'll push aside that and go for our own countries. Desi's been playing great for Canada and she's been doing really good. Hopefully she'll be fit and healthy coming back to Notts County. Coming onto the pitch now, Canada against England. We'll just put all that friendship aside just for that 90 minutes and see who comes out on top."
A crowd of 52,000 is expected at BC Place to watch Canada vs England. The Lionesses will be prepared for an atmosphere that will almost certainly be cheering against them. The majority of the crowd in Montreal to watch Colombia vs England, was dressed in yellow kits cheering on Colombia. England have faced partisan crowds before and won't be worried about it. Mark Sampson has readied his team for all sorts of playing conditions, if they aren't set to come out of the tunnel and get going after "God Save The Queen"  is played, then it just might not be their day. The England gaffer has his team ready for the big match.
"We'll it's not just 55,000 people. We've found that out the last couple of days, I think it's a whole nation hoping for one result.   Let's not forget they're a whole bunch of people back in England that really want this team to do well and be successful. We've already inspired a nation in terms of our performance in this tournament and results. We're hoping we can keep that journey going with a big performance tomorrow. The players will be prepared. One of the objectives from the start was to make sure the players have as many different experiences as possible. Big crowds, small crowds, sunny days,  cold wet, windy days. Strong opponents, weaker opponents, must win games, friendly matches. These players have been through all of that and we've played in front of 45,000 at Wembley. We'll be prepared for tomorrow, players are really excited by the challenge. If you asked them 10 years ago, if they want to play in front of nobody like they were, or in front of fifty odd thousand in a World Cup quarter-final. I know what their answer would be."
The England veteran, White sees her team improving and gaining momentum with each and every day of the World Cup. The key will be controlling the match and making sure they don't give up the ball wastefully. Playing Canada with the support of the crowd will be a tough test. England not making mistakes and dictating the play will help them tempo wise, according to White.
"I think for us, we've grown really well in this tournament. We've gained a lot of momentum, a lot of confidence. I think our attacking style has been really good. We've had numerous players scoring from different positions, I think that's really helped us. I think pressing the Canadians, that will be key for us and being on top of the tempo in the game, and keeping hold of the ball really. I think it's going to be very hot so that will be key. We've got a very fit team, a competitive team and we've got fantastic players that can really change games. I think it's going to be a big, big 90 minutes and hopefully we can do the business."
Canada vs England should be a cracker. Both teams know each other well. Whichever team can get off to a quick start and present a few tricks up their sleeves should earn a date in Edmonton for the semi-finals. The talk is over, time to play.