Major League Soccer's limiting of three Designated Players per team is a tool to allow marquee players to join the league without crushing competitive balance too much, but will the new "core player" be the straw that breaks the camel's back when it comes to parity?
If the first expected use of the "core player" tag is any indication, it's a distinct possibility.
[ MLS: Power Rankings | Player, Team of the Week ]
If you missed it, Mexican star Giovani dos Santos could be headed to the dynasty that is the Los Angeles Galaxy. Winners of three titles in four years, Bruce Arena is about to add Dos Santos to a lineup that includes Robbie Keane, Omar Gonzalez and newcomer Steven Gerrard as DPs.
L.A. was already sixth in our power rankings with neither Gerrard nor Dos Santos, and the idea of an attack that could use the aforementioned players along with Gyasi Zardes, Robbie Rogers and Juninho — we could keep going, but we won't — is frightening.
It's the sort of Starting XI you wouldn't be afraid to put up against the majority of teams on the planet, honestly, and hope for the best.
So what does this mean? It means we're a lot closer to big market domination than you think. Can you imagine what Toronto FC's plans are for their core player? Tim Bezbatchenko was given the green light to lure Jozy Altidore, Michael Bradley and Sebastian Giovinco to BMO Field.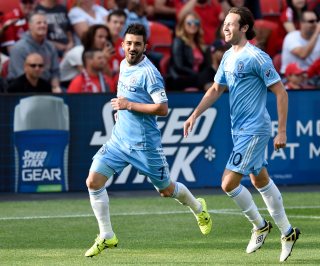 Over in New York City, there have been whispers of Andrea Pirlo joining David Villa and Frank Lampard as DPs, and you know the City Football Group is up to splash the cash on a fourth to join that mix.
It's not just the extra space over the salary cap, it's the quality of player the big pocket teams will bring into the fold. With all due respect to Diego Valeri, Fanendo Adi and Liam Ridgewell — Portland's three DPs — their collective salaries are just over half of what Keane will make this season in L.A.
This doesn't even consider the teams that aren't even filling all of their DP slots. Columbus has one (Federico Higuain), and is one of nine teams, including NYC, that has less than the full allotted three. For some, maybe many of these teams, the "core player" for L.A. will make more than their highest DP.
Which isn't to say the "core player" isn't a good move for the league as a whole. Bigger names and better teams will help grow the league's brand, and success in the CONCACAF Champions League and — eventually — Club World Cup would be terrific for MLS.
But what does it mean for smaller clubs, teams like Philadelphia who don't have the money to spend despite a terrific market? Will owners need to sell to businessmen who will spend more? What is Major League Soccer's plan for them.
It'll be an interesting story to follow as it unfolds across American soccer's top flight.